Freak runaway tire slams pedestrian into pavement (VIDEO)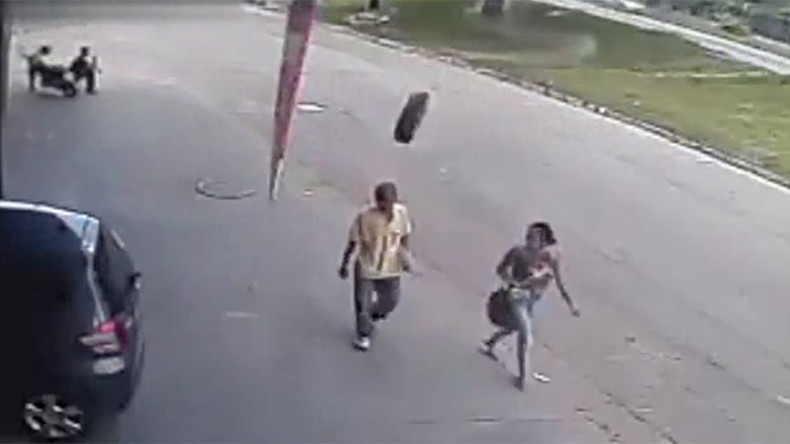 A casual stroll in Brazil almost turned to tragedy in the most unusual of circumstances when a wheel, jettisoned from a passing vehicle, careened across a road and smashed into a pedestrian, hitting him in the head.
Roberto Carlos Fernandes, 50, was walking in the Ipatinga neighbourhood of Minas Gerais state when he was suddenly felled by the runaway tire.
The collision left him with fractures to his skull and chest and requiring urgent medical treatment at the Hospital Marcio Cunha, Ipatinga.
Fernandes is now in stable condition following the freak accident, but footage reveals how the Brazilian was lucky to escape with his life.
CCTV captured from a nearby building shows the moment Fernandes was slammed face first into the concrete by the errant wheel.
In the clip, he can be seen struck on the head from behind, and taking an extremely heavy fall.
As passersby rush to his aid, Fernandes lays prone on the ground. By the time emergency personnel arrived at the scene 10 minutes after the collision, Fernandes appeared able to sit up and respond to medical attention.
According to Diario Doaco, the tire came from a vehicle traveling along the nearby BR381 motorway.
The woman walking beside Fernandes in the CCTV clip has been identified as his daughter Caroline.
She told Extra Globo how the pair were completely taken by surprise.
"We were coming home when I heard a horn and looked, but I did not see anything. Suddenly, the horn became louder and, when I noticed it, the wheel was already on top of my father," she said.
You can share this story on social media: