Stuff of nightmares: Indian teen wakes up at own funeral
Published time: 20 Feb, 2017 22:38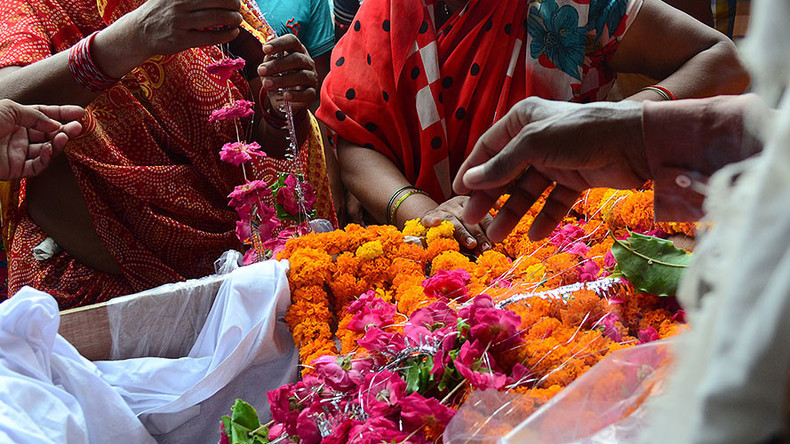 As Kumar Marewad's family were escorting his "remains" to his funeral service, they noticed that something wasn't quite right. Deceased relatives do not typically begin moving, suddenly sit bolt upright and then begin hyperventilating.
After receiving a bite from a stray dog a month ago in the Indian village of Managundi, some 560 km (350 miles) south of Mumbai, Marewad developed an intense fever that landed him in the hospital and eventually led to the 17-year-old being placed on life support.
The doctors were upfront with his family about his chances of survival were he to be taken off the ventilator – the odds were not great.
Kumar's family decided not to prolong his suffering, took him off life support and brought him home.
READ MORE: India considering taxing over-the-top weddings
"We had decided to take Kumar home after doctors told us his chances of survival were bleak once taken off the ventilator," Kumar's brother-in-law, Sharanappa Naikar, told the Times of India.
Upon arrival at home, his family saw no evidence of breathing, movement or any other signs of life, Huffington Post India reported. They quickly made funeral arrangements to bid farewell to their beloved son.
However, en route to the funeral ceremony, Kumar suddenly awoke, much to the consternation of mourners. He was immediately rushed to the hospital once again for emergency treatment.
Kumar's parents, Ningappa and Manjula, told the Times of India that "Kumar stopped going to school after Year 9 to support us. He used to work as a construction laborer. His elder brother is physically challenged. We need support for his treatment."
Kumar is now on a ventilator, according to Dr. Mahesh Neelakhantannavar, who also told the newspaper that they "suspect he suffers from meningoencephalitis, an infection caused due to a dog bite."
Meningoencephalitis is a medical condition which resembles both meningitis – an infection or inflammation of the delicate membranes that cover the brain and spinal cord – and encephalitis, an infection or inflammation of the brain.