Hitler's phone used to 'send millions to their deaths' sold for $243,000 at US auction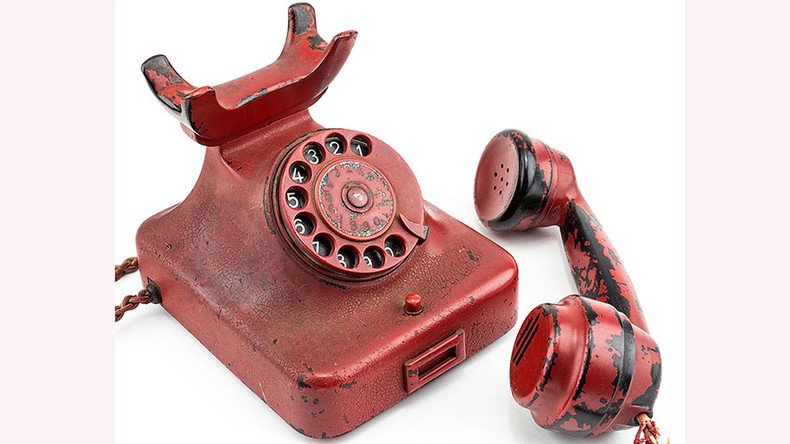 The swastika-emblazoned phone of Adolf Hitler used to send "millions to their deaths" has been sold at auction in Maryland for $243,000.
Alexander Historical Auctions sold the phone on Sunday to an anonymous bidder, who aptly made his offer by phone. A porcelain Alsatian dog belonging to Hitler was also sold for $24,300.
The distinctive red phone was discovered in the Berlin bunker where Hitler hid in the days before his death as the city was being overrun in 1945. The auction house described it as "arguably the most destructive 'weapon' of all time."
According to Alexander House, Hitler used the phone to give most of his orders during the last two years of World War II, and used it to tell his aides to torch his home once he had committed suicide.
"It would be impossible to find a more impactful relic than the primary tool used by the most evil man in history," the auction house said. "This was not a staid office telephone. This was Hitler's mobile device of destruction."
Hitler was said to have carried his phone with him when he travelled. It was used in his headquarters as well as in cars and trains.
The Siemens rotary phone was originally black, and was later painted red and engraved with Hilter's name, a swastika, and the Third Reich symbol of an eagle.
The handset has to be rotated before it can be lifted, which kept it from coming loose when it was in transit.
Russian officers gave the phone to British Brigadier Sir Ralph Raynor during a visit to Hilter's hiding place soon after the war ended.
Raynor passed the Nazi phone, and the porcelain Alsatian, on to his son Ranulf when he died. A number of UK museums had rejected the piece of memorabilia, and Ranulf decided to put it up for auction so that it could be displayed as a reminder of the chilling consequences of the orders made on the phone.
READ MORE: Hitler's phone used to order death of millions up for auction
"This was Hitler's personal instrument of death," he said. "It is a very sinister piece of equipment, when you think about what it was used for."
"The orders Hitler shouted down the phone's mouthpiece, many of which are recorded in history, are a lesson we should never forget."


You can share this story on social media: