'Sea of yellow' covers UK field as 1,800 newborn chicks abandoned (VIDEO, PHOTOS)
Published time: 19 Feb, 2017 20:42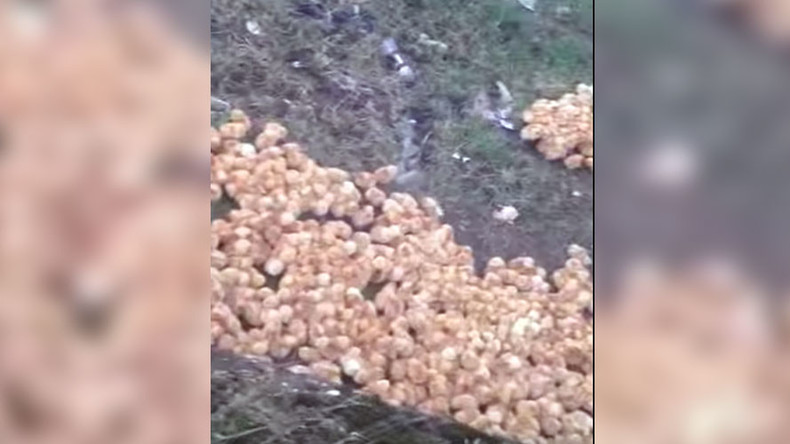 A UK animal charity were feeling less than chirpy after realizing someone had abandoned up to 1,800 one-day-old chicks in a field in Cambridgeshire in the UK. An investigation has been launched to find the perpetrator.
The newly hatched chickens were found in Crowland near Peterborough on Friday although how they got there remains a mystery.
It's understood the chicks came from a nearby commercial chicken farmer but may have been dumped in the field by a third party. The farmer is assisting the Royal Society for the Prevention of Cruelty to Animals (RSPCA) in their investigation.
"I have never seen anything like it; it was just a sea of yellow. And the noise was unbelievable," said Inspector Justin Stubbs of the RSPCA, according to the Wisbech Standard. "The chicks are only about a day old and are really tiny and quite delicate. Some of the birds were dead or dying when we arrived so some, sadly, had to be humanely put to sleep."
Of the 1,800 chicks abandoned, 30 died of exposure according to the RSPCA. The remainder were collected into boxes and then returned to the nearby farmer who claimed ownership.
"These tiny birds wouldn't have survived long out on their own at such a young age and in such unpredictable weather conditions," Stubbs added. "For someone to dump these vulnerable chicks is unbelievable."
In a post on their Facebook page, the Peterborough branch of the RSPCA said the find "took our inspectors' breath away."