Dictators get started by suppressing media: McCain blasts Trump's war on press
Published time: 19 Feb, 2017 16:36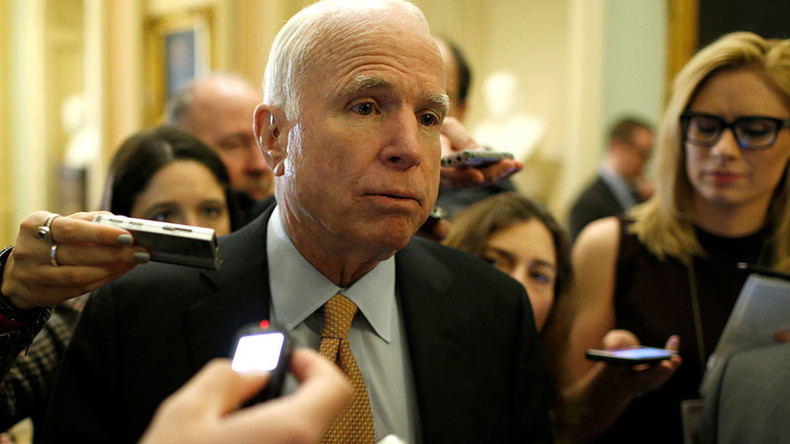 Republican Senator John McCain has stoked controversy over his criticism of President Donald Trump's hostile handling of the media, warning "That's how dictators get started."
"I hate the press," the Arizona senator told presenter Chuck Todd on NBC's Meet the Press. "But the fact is we need you. We need a free press. We must have it. It's vital."
"If you want to preserve democracy as we known it, you have to have a free, and at times adversarial free press," he added. "And without it, I am afraid that we would lose so much of our individual liberties over time. That's how dictators get started."
Don't believe the main stream (fake news) media.The White House is running VERY WELL. I inherited a MESS and am in the process of fixing it.

— Donald J. Trump (@realDonaldTrump) February 18, 2017
Todd asked McCain whether dictators get started by sending tweets like the ones Trump sends attacking the press. "No, they get started by suppressing the press," he replied.
"The first thing dictators do is shut down the press," McCain explained. "I'm not saying that President Trump is trying to be a dictator, I'm just saying we need to learn the lessons of history."
@FoxNews@AlyssaMadruga John McCain understands real American values. A true American patriot who has served his country.

— Jeffrey Jones (@Jeffrey62093861) February 19, 2017
McCain: Dictators start by suppressing media, thats right! #Trump undermines democracy, by calling everything fake https://t.co/thAs0QQ3x9

— andre polgar (@akiyukigo) February 19, 2017
John McCain just keeps firing at the President. He should get on board and shouldn't forget that we the people voted Red because of Trump

— kens (@magakens) February 19, 2017
McCain's comments have ignited a twitterstorm as people from both sides of the debate took to social media to both attack and defend McCain.
McCain's statements have caused a lot of anger online. Many people felt the senator was not in a position to criticize, given his support for Trump in the presidential election.
To many, McCain's statements rang true, as people agreed that attacking the press is a typical move employed by dictators.
I lived under Somoza & Sandinistas, 2 dictatorial regimes. McCain is right. Dictators' 1st move, suppress the press. https://t.co/YhzrIMpiEH

— Ana Navarro (@ananavarro) February 18, 2017
Big oil and all its cronies are trying to silence the media. That was Hitler's first move too. Listen to McCain. #cnn

— UltramanBG (@UltramanBG) February 19, 2017
@thehill McCain has been around long enough to have seen a few dictators get started. Guess he recognizes Trump for what he is!

— TheBlueWaveUSA (@TheBlueWaveUSA) February 19, 2017
Dictators have a pattern: First, attack the people's right to know. https://t.co/q7aWGWLaJj

— Rep. Keith Ellison (@keithellison) February 19, 2017