'Lie-Lie Land': Trump, Theresa trolled in viral UK street art (PHOTO)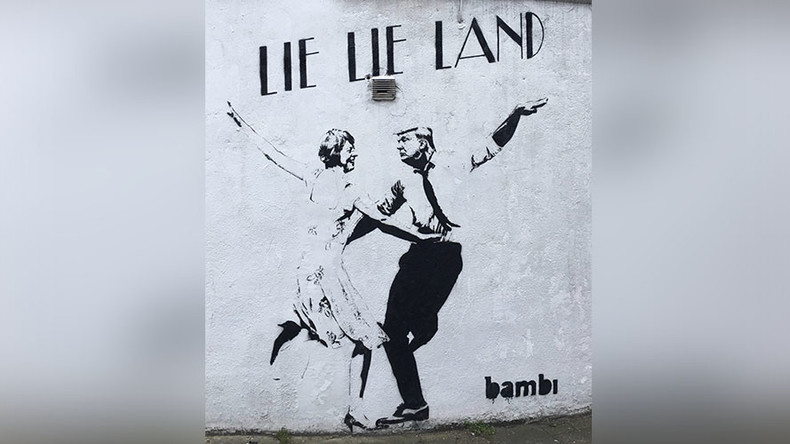 A London-based artist has reimagined US President Donald Trump in a pair of jazzy spats dancing with UK prime minister Theresa May as part of a politically charged graffiti parody branded: 'Lie Lie Land'.
The graffiti stencil appeared this week in Islington, London, and has been claimed by street artist Bambi.
It plays on a promotional poster for the award-winning Hollywood musical La La Land, in which a jazz pianist (Ryan Gosling) falls for an up-and-coming actor played by Emma Stone.
The film claimed six awards at this year's Golden Globes. In Bambi's streetside version, US President Donald Trump, sporting a trimmer figure, slides into the Gosling role by taking Theresa May by the hand and leading her on a merry dance.
Earlier this year, Trump raised eyebrows at a meeting with the British PM in Washington when he held her hand at a press appearance.
I look very much forward to meeting Prime Minister Theresa May in Washington in the Spring. Britain, a longtime U.S. ally, is very special!

— Donald J. Trump (@realDonaldTrump) January 8, 2017
Bambi, who has produced political commentary pieces before, published an image of the Lie Lie Land work on Facebook, captioning it: "Theresa & Trump in full swing".
In January, the artist used the image of Lady Liberty to spread a message in Camden, London, to 'Make America Sane Again'. That project depicted the Statue of Liberty with a skull for a face and carrying a torch pumping out black smoke.