#ElMundoConAssange: WikiLeaks launch Twitter bid to prevent eviction from Ecuadorian embassy
Published time: 16 Feb, 2017 18:49
Edited time: 16 Apr, 2018 14:16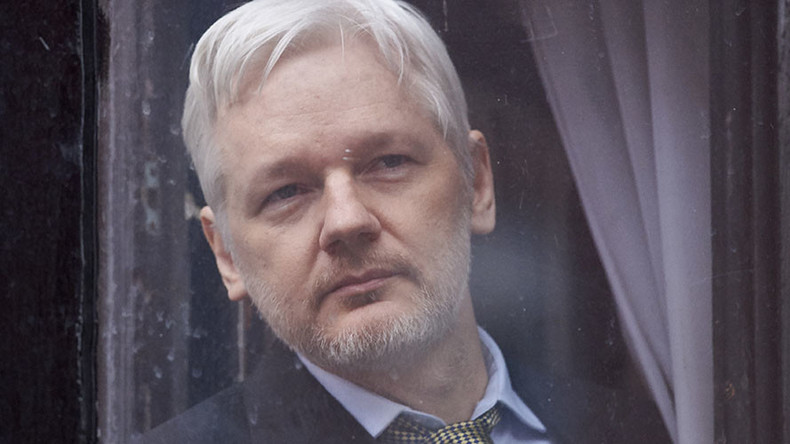 A Twitterstorm is brewing online with the launch of a movement aimed at pressurizing the Ecuadorian authorities into allowing Julian Assange to remain in their London embassy beyond the February 19 presidential election.
Presidential hopeful, Guillermo Lasso, head of the right-wing Creo-Suma party, has made clear his intentions to evict Assange from the Ecuadorian embassy in London if he is elected.
"We will cordially ask Señor Assange to leave within 30 days of assuming a mandate," Lasso told the Guardian earlier this month.
WikiLeaks and Assange campaigners are urging people to post on Twitter using the hashtag #ElMundoConAssange throughout February 16 to support the WikiLeaks chief.
Assange has been living in the London embassy since June 2012, when he applied to Ecuador for political asylum to avoid extradition to Sweden over allegations of sexual assault. He has denied the claims.
READ MORE: Ecuador presidential hopeful plans to evict Assange from London embassy if elected
On Thursday, WikiLeaks once again highlighted previously-released cables in relation to former banker Lasso. The cables apparently revealed the extent to which he went to discredit President Rafael Correa.

Lasso organized the business sector against the administration's progressive measures, according to the WikiLeaks cables.
While Correa's former Vice President, Lenin Moreno is favorite to win, Lasso could clinch victory in a second-round vote.
Another candidate, Cynthia Viteri from the Social Christian Party, has also vowed to evict Assange from the embassy, however polls suggest she has a lesser chance of winning.
Assange is wanted in the US in relation to WikiLeaks' publication of classified files, provided by whistleblower Chelsea Manning.
In February 2016 the UN formally declared that Assange was being unlawfully detained by Swedish and UK authorities and ordered that he be immediately released and compensated for the violation of his rights.
Assange confirmed last month he would stand by his offer to go to the US following Barack Obama's decision to release former US Army intelligence analyst Manning from prison.
READ MORE: WikiLeaks editor Assange 'wants to engage' with US over Manning extradition promise