Condoms seized by Indonesian cops in Valentine's Day crackdown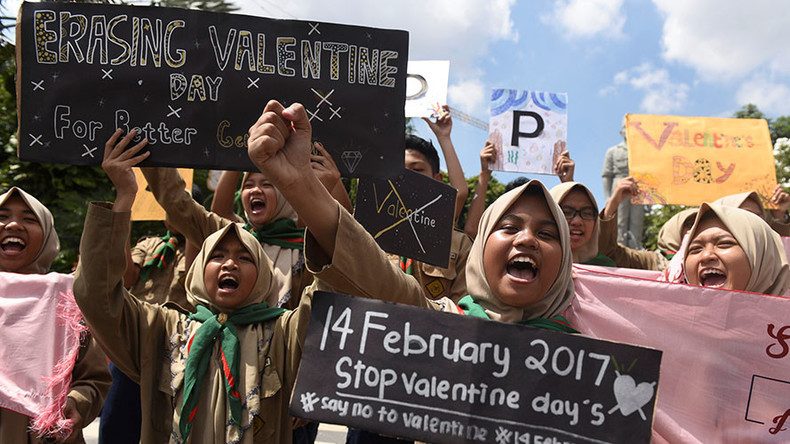 Students in parts of Indonesia will be without condoms on Valentine's Day as authorities enforce a ban on festivities. The contraceptives were seized from stores as officials crack down on the holiday they claim goes against religious and cultural norms.
Raids were carried out on stores in the city of Makassar on Sulawesi Island which police said were "selling condoms in an unregulated way, especially on Valentine's Day", reported Reuters.
READ MORE: Pakistan court deems Valentine's Day 'un-Islamic,' bans across country
The city's mayor Mohammad Ramdhan Pomanto, who last year ordered stores to sell condoms to married people only, reportedly told local media that they were being sold "as if they were candy."
Last week West Java Education Agency issued a letter to schools in the area banning students from celebrating the day, saying it was a Western tradition going against "religious, social and cultural norms." A similar order was also sent to schools in Surabaya, the country's second largest city.
Officials said the ban is intended to build good moral character in students, reported The Jakarta Post. Local education activist Eko Purwono criticized the ban saying it was impossible to enforce, unlike buying cannabis or crystal meth.
Regional authorities can issue bylaws in Indonesia without approval from the central government. Provinces including Aceh, which follows Sharia Law, have previously issued bans on celebrating Valentine's Day. In 2012 the country's highest Islamic clerical council declared the day forbidden by Islamic Law.
Despite the ban, the day has grown in popularity in the country with the world's largest Muslim population, with stores attempting to cash in on consumers love-related purchases.
On Monday a court in Pakistan ruled that the occasion should be banned, saying it was against Islamic teachings. Pakistanis reacted to the ban with a mixture of sarcasm and dismay, saying "clerics can not stop people from loving."
You can share this story on social media: