Phone charger: China jails 3 airline passengers for using cells mid-flight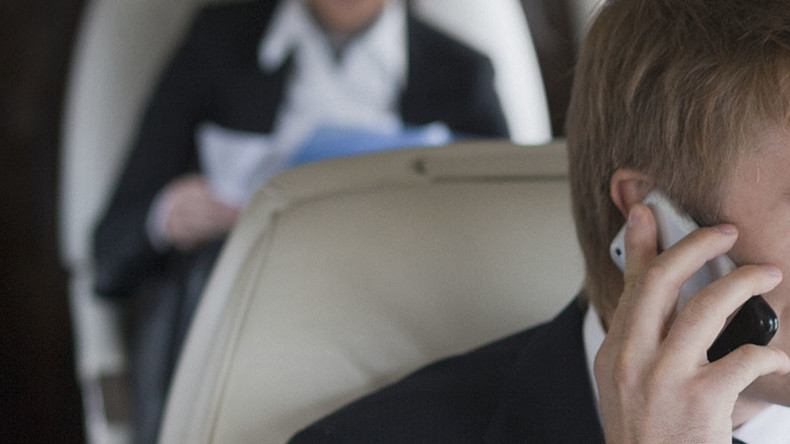 Three Chinese airline passengers have been arrested and jailed so far this year for using their mobile phones during a flight following the introduction of tighter restrictions.
The passengers were detained by police in Beijing during three separate incidents dating from January 5 to February 6, according to the Civil Aviation Administration of China (CAAC), as reported by China.org.
The arrests come after stricter regulations were introduced by the CAAC last year. The Civil Aviation Law was amended to introduce a fine of up to 50,000 yuan ($7,500) for 14 types of illegal behavior that "endangered public safety."
While most of these restrictions focus on preventing violence, one of the more unusual rules is the ban on using phones or electronic devices during flights.
China's aviation authority says it can not determine whether 'airplane mode' can effectively block all "potentially harmful" signals from the device.
Chinese media reported in 2014 that by 2016, Chinese travelers would likely be permitted to use their phones on planes at a height of more than 3,000 meters (9,900ft).
However, the new regulations go even further than similar restrictions in other countries, where it is standard practice to request passengers switch their devices to airplane mode during flights.
READ MORE: Samsung Note 7 flight ban spreading worldwide
On January 5, one passenger was arrested at Beijing International Airport and detained for five days after flying from the northern city of Harbin. Zhang refused requests to switch off her phone and made calls during the flight, according to an air hostess.

Another passenger was held for three days for using her phone on board a flight from Nanchang, Jiangxi Province, to Beijing on February 5.
The next day a third passenger was jailed for five days for allegedly listening to music on a mobile phone during take-off and landing. Wang had traveled from Mudanjiang, Heilongjiang Province to Beijing.
You can share this story on social media: