'Trump pizza' with 'all bread border' on sale at Texas eatery (PHOTOS)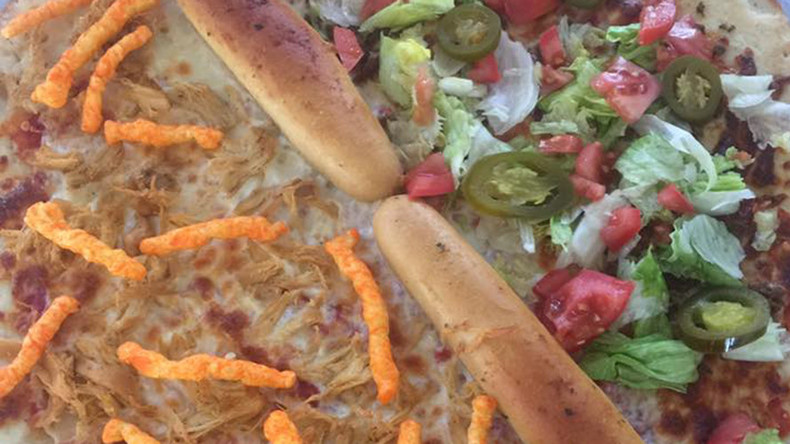 Donald Trump's plan to build a wall between Mexico and the US isn't only dividing opinion – now it seems to be dividing pizza. Swapping concrete for dough, a Texas eatery has created its own pizza pie inspired by the proposed wall.
Peace of Pizza in Midland, Texas is currently offering what its part comedian and part chef owner, Rob Jenkins, describes as half of "a Mexican taco pizza, separated by a white bread border" from "a chicken cheetos pizza" on the other side "inspired by Trumps skin tone."
"The all bread border was hand placed by Raul," a post on the eatery's Facebook page reads. "Raul is a honest hardworking Mexican American. He is torn on which side of the pizza he likes better... when asked he simply said, 'I'm on the fence.'"
"It wasn't meant to offend anyone," Jenkins told KWES. "It wasn't offensive in my opinion. I checked with a lot of people before we did it. It doesn't really bother me to offend somebody cause to be honest, they probably weren't a customer of mine to begin with," he added.
Peace of Pizza says it's not "scared to poke fun at the other side," however. On Saturday, an advertisement on its Facebook page was touting a "Democratic-Socialist pizza," claiming that it is "cut so many times that everyone can get a slice."
You can share this story on social media: