Ballerina dances on busy Moscow road in temperature of -17C… and no one is sure why (VIDEO)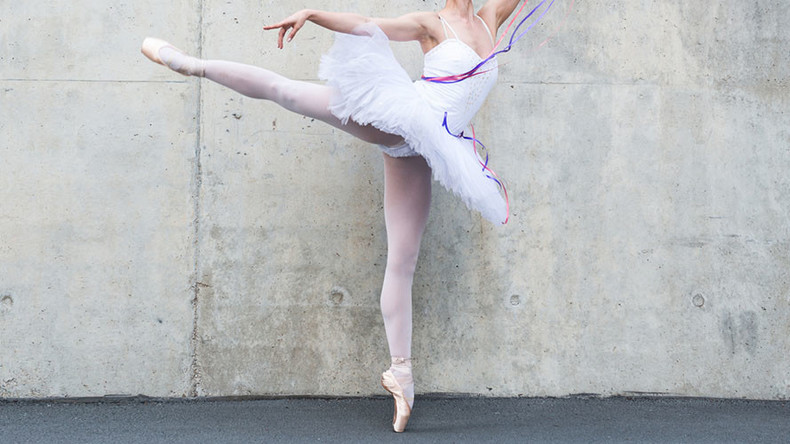 A video of a woman dressed in a classical ballet outfit dancing between cars on a busy Moscow road hit the web this week, while there are still no answers as to what exactly was going on, especially given the freezing temperatures of -17C that day.
Tatyana Arhipova filmed the video on February 7 and posted it on her Facebook page with the caption:
"Morning, February 6, 9am, it's -17C [1.4F] outside, what could all of this mean?"
Since then the video has gathered more than 6,000 views.
In one discussion online a man claimed that the ballerina in question had lost a bet to him. Konstantin Sedov Sedov wrote:
"She lost a bet. And to me! I can't disclose any details, but thank you for the video! Zhanna is amazing."
Facebook users were quick to turn on him though, calling him a sadist and stating the health risks of being barely dressed in sub-zero Moscow at this time of year.
Another commentator claiming to have been an eyewitness said that once the ballerina had crossed the street she was embraced by a group of friends who wrapped her in warm clothes.
The author of the video pointed out that although it's barely visible, the woman sprinkled some cars with rose petals on her way.
"And they say abroad that we have bears walking our streets! But look at us: we're a cultured country! We have ballerinas!" Facebook user Tatyana Zhukova wrote in reaction to the original video.
Although most people suggested that a lost bet was the reason for the stunt, other speculation included poor mental health, viral marketing and drugs.
Meanwhile, Russian daily Komsomolskaya Pravda has launched a search, asking readers to send in any information about the mystery dancer to its newsroom.
You can share this story on social media: