Move over Tinder: Entrepreneur only suitor on his brand new dating app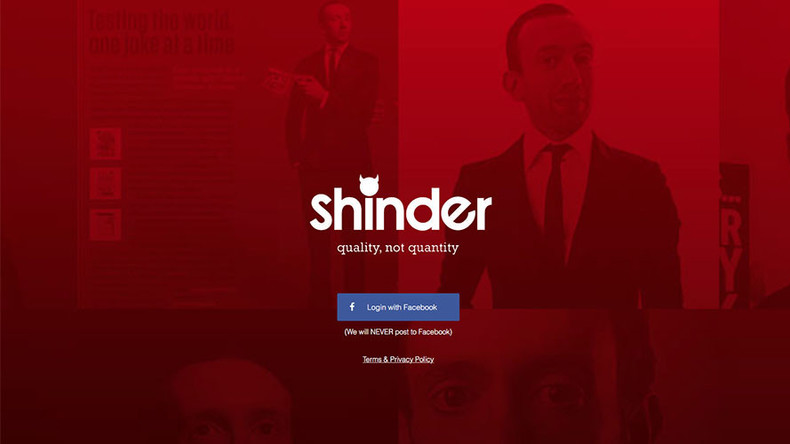 If you're lonely ahead of Valentine's Day, then maybe you should take a leaf out of Shed Simove's playbook. The British entrepreneur has created his own version of the dating app Tinder and he's the only man featured on it.
Mixing his own name with that of the already-popular Tinder, Simove has built the aptly-titled 'Shinder'. Once you've logged in with your Facebook account, you'll be able to swipe left or right to see what's on offer – although pictures of Simove are all you'll find.
With a tagline of "quality, not quantity," Simove told Mirror Online he's looking for his "Shinderella," and describes himself as a "performer, author, novelty gift and adult toy designer, motivational speaker, Guinness World Record holder and egotist."
"Can cook a mean globe artichoke and is the most exciting date ever," he adds.
For those who like what they see and swipe right, they then must wait and see if Simove also swipes right. To date, Simove has made 100 matches.
For those not so keen, however, they will be told they are "dodging a bullet" and are offered the chance to join his mailing list.
"I joined all the usual [ones] – and some unusual ones too [dating sites]...I quickly realized that it's tough to stand out and get noticed with seemingly endless choice," he said.
"I've anticipated the scarcity of potential matches will create increased demand, and with that more chance of dating successes," adding that he's "now a big fish in my own pond."
Simove isn't new to the world of quirky inventions, with his online store offering some unique products, including a book he published entitled 'What Every Man Thinks About Apart From Sex', which includes 200 blank pages.
You can share this story on social media: