Ministry of Silly Stunts? Bizarre Pakistani school for razor wire tricks seeks govt funding (VIDEO)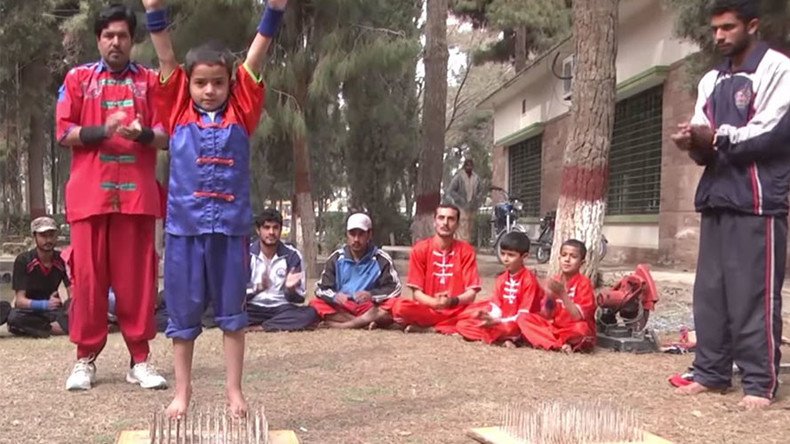 A school in a war-torn region of Pakistan helping lionhearted stunt artists to master outlandish tricks, such as eyelid weightlifting and nail walking, wants the government to provide it with funding.
The private academy is run by stunt master Ghulam Farooq, who last Sunday displayed the stomach-churning feats that go on at the Balochistan province school.
Farooq carries out gut-wrenching performances involving power tools, rusted nails and barbed wire.
He helps others to discover their talent for pushing their bodies beyond normal limits.
The school is situated near the settlement of Mastung, which in 2011 was the scene of a bus massacre claimed by a Sunni jihadist group called Lashkar-e-Jhangvi.
Farooq says that despite a belief that his stunts rival similar feats as seen on television, the school faces a lack of funding. He believes that, with government support, the smalltime facility can go on to perform at "high-level" events.
"I used to watch stunts on Discovery and National Geographic [channels]. I wished to do these kinds of stunts but you have seen what I have done, people on Discovery can't do that," Farooq said.
"We have so many difficulties as we don't have enough facilities and necessary things. If the government supports and promotes us, we can do high-level events," he added. "The main problem is some support for us."
Video of Farooq in action shows how he puts his body through the mill by simultaneously hooking bricks to his eyelids, wrapping his body in barbed wire and standing on a bed of nails.
In one instance, the Pakistani stunt guru can be seen to bend a metal bar with his teeth.
You can share this story on social media: