'Restore my liberty': Assange hits out at UK & Sweden over embassy confinement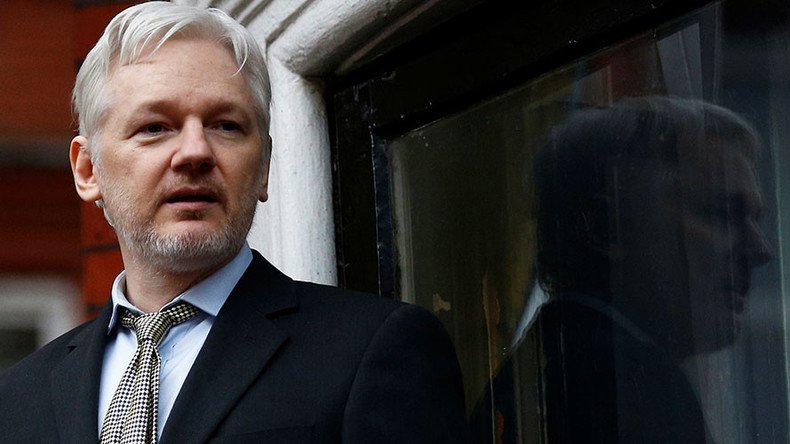 WikiLeaks editor Julian Assange says the governments of Sweden and the UK are contributing to human rights abuses by continuing to deprive him of freedom, one year after the UN found he was being "arbitrarily detained" in London.
Assange, a co-founder of the whistleblowing website, has been living within the confines of the Ecuadorian Embassy in London since 2012.
READ MORE: UN panel rules Julian Assange arbitrarily detained, entitled to liberty & compensation
In February 2016, a United Nations panel found that Sweden and the UK had been involved in "arbitrarily" detaining Assange since his initial arrest in 2010.
It called for an end to his detention and to "afford him the right to compensation."
One year on from the non-legally binding conclusion, Assange is urging the governments of the UK and Sweden to "do the right thing" and "restore my liberty."
Referencing fruitless appeals by the UK over the UN ruling, Assange said a "refusal" to respect the view of the UN Working Group on Arbitrary Detention comes at a "terrible cost" to human rights in the rest of the world.
"[O]ther states can now illegally detain Swedish and UK citizens with effective impunity and the UN human rights system more broadly is imperilled," Assange said in a statement issued Monday.
Assurances of freedom outside the embassy may be Assange's primary concern, but the 45-year-old could soon face another in the form of eviction by Ecuadorian politician Patricio Zuquilanda.
Zuquilanda has promised to boot Assange out of the Ecuadorian embassy in London if he is successful in this month's general election, El Universo reports.
READ MORE: UN ruling to free WikiLeaks' Assange to stand after British appeal rejected
The Australian's current place of refuge stems from a fear that sexual misconduct and rape allegations against him in Sweden, which he has denied, may result in extradition to the US regarding WikiLeaks-related activities.
Sweden's handling of the case was one aspect panned by the UN panel last year.
A "lack of diligence" by the Swedish Prosecutor's Office had resulted in Assange's "lengthy loss of liberty," the working group concluded last February.
You can share this story on social media: