Russian rooftopper skateboards & somersaults on ledge of Hong Kong skyscraper (VIDEO)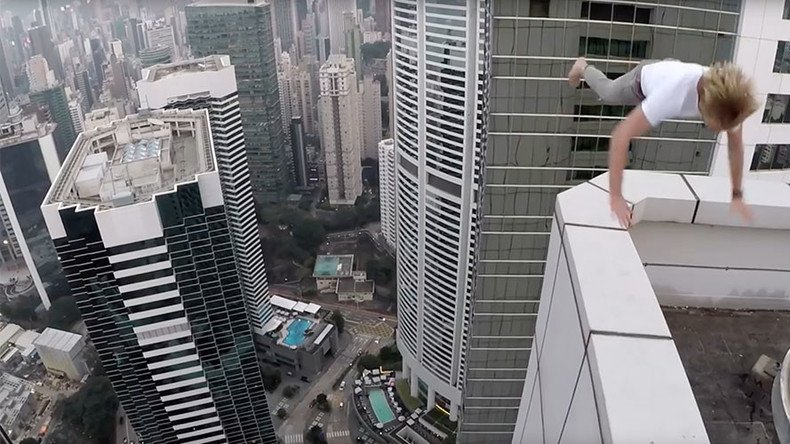 A Russian thrill seeker has come to the attention of police in Hong Kong after he skateboarded along the edge of a skyscraper in a death-defying stunt.
Oleg Sherstyachenko, who goes by the moniker 'Oleg Cricket', posted the spine-chilling footage to his social media accounts and is now under investigation, according to the South China Morning Post.
The terrifying video, entitled 'Savage in Hong Kong', shows Cricket lying on his stomach on a skateboard and casually pushing himself along the edge of the skyscraper, with no safety equipment in sight.
At one point in the video a voice can be heard threatening, in Cantonese, to call the police.
The Siberian stuntman, who is a trained gymnast, also performs a series of other stomach-churning tricks including somersaults on the rooftop edge and balancing on the building's ledge on a skateboard.
The stunt was part of a promotional collaboration with UK watch company Circulr.
China's plentiful skyscrapers have made it a target of adrenaline junkies looking for their next elevated fix.
Cricket alone has several unnerving stunts under his belt. Last year he produced a video of himself spinning on a hoverboard right on the edge of a Dubai skyscraper.
READ MORE: Daredevil Russian hoverboards on the edge of Dubai skyscraper in vertigo-inducing stunt (VIDEO)
You can share this story on social media: