Court rules over pile of manure so massive it could be seen from space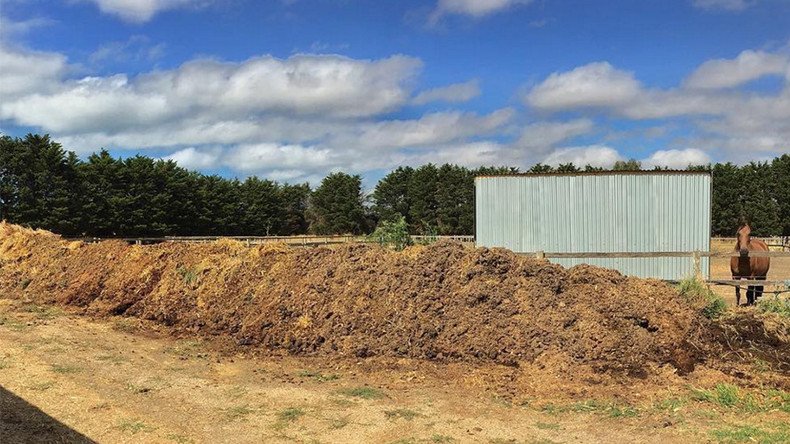 A pile of manure so massive it could seen from a Google Earth satellite is at the center of a smelly court case between neighbors in Canada.
David and Joan Gallant sued their former friends and current neighbors, Lee and Shirley Murray, over the unbearable pile that lined the edge of their property in rural New Brunswick for almost a year.
"The manure was fresh, unseasoned, wet, raw manure. The smell was disgusting," said David Gallant in his affidavit, complaining that the smell would get worse when it rained or if the wind blew from the east.
READ MORE: Poop art: Russian sculptor erects giant manure rooster to greet 2017 (PHOTOS)
The Gallants' complained that the outrageous pile of poop was just one of several tactics used by the Murray's as part of escalating dispute that involved facilitating the escape of numerous cows and using a snowblower to send rocks and snow onto the Gallant's property.
The judge presiding over the case said the Murray's had purposefully set out to make their neighbors' lives "miserable", awarding the Gallants a reported $15,000 in damages on January 19 and forbidding them from spreading manure within 300 meters of the Gallant property.
"The manure was piled high and a photo taken by Google (Earth) from a satellite shows it," said Court of Queen's Bench Justice George Rideout, as reported by the Calgary Herald.
"I have little doubt these activities were initiated by the Murray's and designed to inflict fear, nuisance and harassment against the Gallants'," the judge added.
As with any good neighboring dispute, there are always two sides to the fence.
Lee Murray said on Friday he and his wife plan on appealing the court's decision, insisting they are the ones who have been harassed by their former friends who are simply looking for a payout and "made a big fuss over nothing".
"There's more to this. This thing isn't over yet," he warned.
You can share this story on social media: