Rescuers save desperate whale trapped in massive fishing net (VIDEO)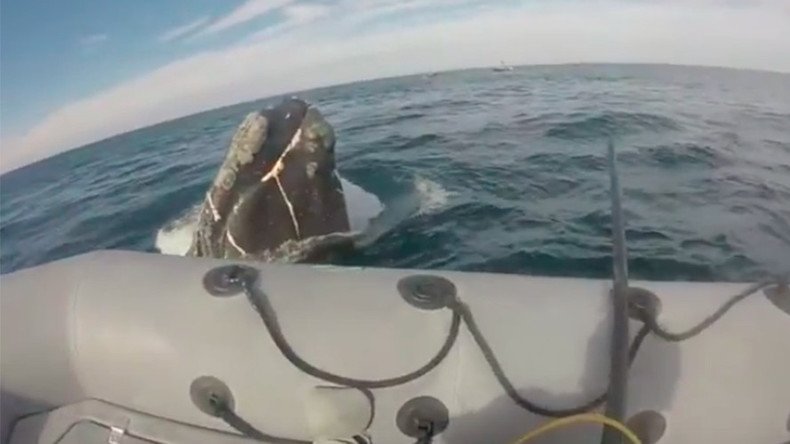 An endangered North Atlantic right whale was recently rescued from a huge commercial fishing net after becoming trapped in more than 450 feet of rope and a 125lb pot/trap off the coast of Cumberland Island, USA.
An alliance of highly-trained rescuers worked together on January 6 to free the desperate animal dragging around the enormous trap, which is used in certain cold-water fisheries.
READ MORE: Killer whales stuck in shallow water saved by fishermen in Russia's Far East (VIDEO)
"Entanglement in commercial fishing gear is one of the leading threats to this imperiled species. More than 80 percent of North Atlantic right whales have scars from previous entanglements," said the US National Marine Fisheries Service.
The agency estimates that more than 92 large whales have been freed from "life-threatening" fishing gear entanglements over the last 25 years.
The challenging task of freeing the whale was filmed by the NOAA during its recent rescue mission off the coast of Georgia. The responders raced to the spotted whale's location, tracking the GPS buoy that was attached the night before.
READ MORE: At least 10 whales die, more set to perish after mass stranding off Indonesia (PHOTOS)
The rescuers then attached more buoys to the fishing gear in an effort to keep the animal from deep diving so the team could cut off the meters of rope.
The team cut through as much of the netting as they could before the whale either became free or swam off, hopefully shedding the remaining lines.
You can share this story on social media: