'Dude, how are you still alive?' Skier cheats death after 150ft plunge (VIDEO)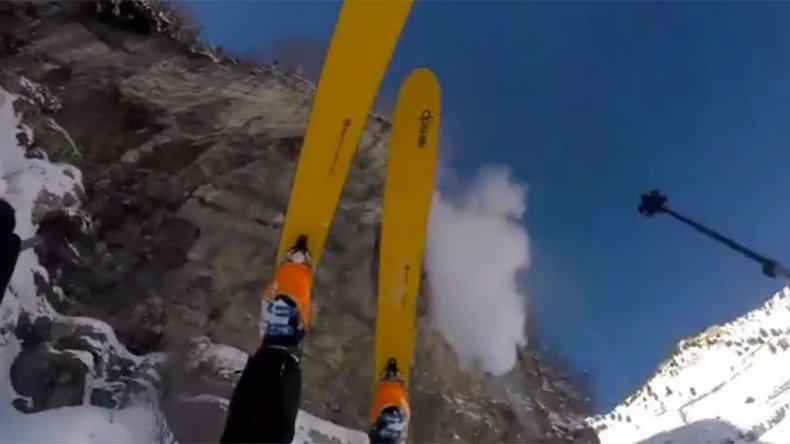 Hair-raising footage of a skier falling 150ft (46 meters) off a cliff in the Utah mountains has gone viral and left the internet wondering how the adventurer walked away unscathed from the perilous plunge.
Devon Stratton, 25, miraculously survived the plunge without a scratch and later posted the clip of his misadventure at Mount Timpanogos on Instagram.
The remarkable video shows Stratton skiing down the mountain below stunning blue skies before unintentionally diving right off the top of a cliff.
Stratton can be heard shouting as he falls to the ground in a terrifying drop.
Just moments later, he turns his face towards the camera to show he's OK. Amazingly, Stratton escaped injury, despite landing on his back.
"Turns out I am afraid of heights... Miraculously I didn't even have a bruise! I did break a lot of gear including my helmet," he wrote in an Instagram post.
In an interview with GrindTV, Stratton said: "I'm more than lucky. It's a straight-up miracle I'm alive. I think the fact that I was skiing when I went off the cliff and I somehow had enough speed to clear the rocks you see in the video is nothing short of a miracle."
"When he [my friend] skied over to me after falling down the cliff, he just looked up at it then back at me and asked, 'Dude, how are you still alive?'"
Undeterred by his near miss Stratton will be back: "As soon as avalanche conditions slow down I'm going to go back and do it again."
You can share this story on social media: