Jokes in docs: CIA throws in some laughs about Soviet leadership in published papers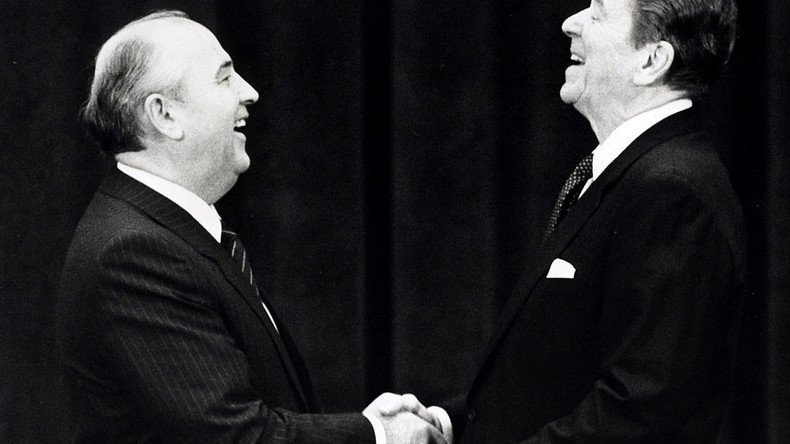 The CIA appears to have covered all its bases when dealing with the USSR, with its recent online publication of nearly 13 million pages of declassified records complete with a list of "Soviet Jokes."
A two page document titled "Soviet Jokes for the DDCI," referencing the Deputy Director of Central Intelligence, contains a list of quips and yarns, although it's unclear when or for what reason the jokes were compiled.
The jokes make reference to then Soviet leader Mikhail Gorbachev, so it's presumed the jokes stem from the '80s. Why the CIA kept them on lockdown for decades is a mystery.
One of the Gorbachev jokes read: "A worker in a liquor line says, 'I have had enough, save my place, I am going to shoot Gorbachev.' Two hours later he returns to claim his place in line. His friends ask, 'Did you get him? No, the line there was even longer than the line here'."
READ MORE: UFO sightings & psychic powers revealed in newly released CIA docs
Another reads: "What's the difference between Gorbachev and Dubcek? Nothing, but Gorbachev doesn't know that yet."
Alexander Dubcek was the Slovak leader of Czechoslovakia who instigated the liberal reforms of the Prague Spring in 1968, leading to both his downfall and a takeover by Warsaw Pact forces.
Another hint from the jokes that points to the '80's: "An American tells a Russian that the United States is so free he can stand in front of the White House and yell, "To hell with Ronald Reagan." The Russian replies: "That's nothing. I can stand in front of the Kremlin and yell, 'To hell with Ronald Reagan,' too."
One of the classic, though lengthy, jokes takes aim at Soviet leaders from Lenin through to Gorbachev: "A train bearing Lenin, Stalin, Khrushchev, Brezhnev and Gorbachev stops suddenly when the tracks run out. Each leader applies his own unique solution."
"Lenin gathers workers and peasants from miles around and exhorts them to build more track. Stalin shoots the train crew when the train still doesn't move. Khrushchev rehabilitates the dead crew and orders the tracks behind the train ripped up and relaid in front. Brezhnev pulls down the curtains and rocks back and forth, pretending the train is moving. And Gorbachev calls a rally in front of the locomotive, where he leads a chant: 'No tracks! No tracks! No Tracks."
The KGB were also ridiculed in the document: "Someone happened to call the KGB headquarters just after a major fire. 'We cannot do anything. The KGB has just burned down' he was told."
"Five minutes later he called back and was told again that the KGB had burned. When he called a third time, the telephone operator recognized his voice and asked, 'Why do you keep calling back? I just told you, the KGB has burned down.' 'I know,' the man replied. 'I just like to hear it.'"
You can share this story on social media: