Robotic parking garage opens in China (VIDEO)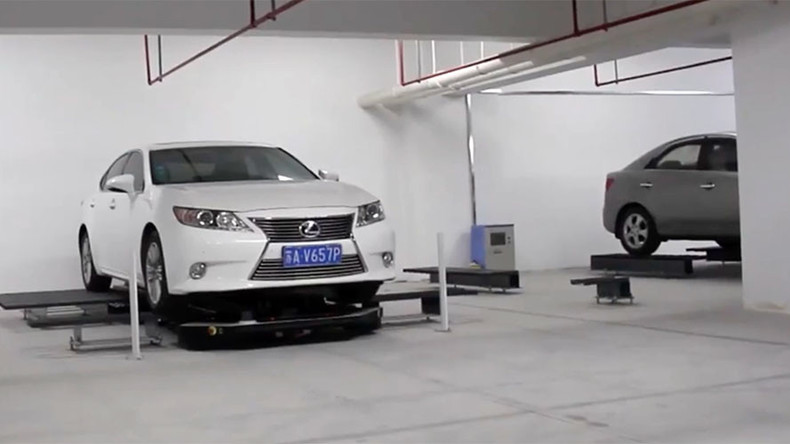 Searching for a parking space could soon be a thing of the past, at least for the people of Nanjing, China, after one of the city's subway stations revealed a robotic parking garage.
The automated guided vehicle (AGV) parking garage makes parking a stress-free experience for busy commuters, and reduces the space needed to park.
"Our parking saves space," the carpark's general manager said on Tuesday. "In average parking garages, every car requires about 40 sq meters (431 sq ft). Our AGV garage will take up only about 15 sq meters."
Customers can book a parking lot space through a cellphone application, then drive their cars to the entrance of the garage. Once the shutters open, the customer drives inside and leaves the car to be parked.
Assisted by an operator viewing the car through CCTV, the floor opens and the car is lowered to the floor below, where it's spun around and placed on robotic rolling tracks which guide it to a parking lot space.
"The most advanced laser guide positioning technology enables the robot's parking accuracy to reach up to 5mm (0.2 inches), accurately parking your car in the parking space," the manager explained.
The tracks deliver the car to a raised platform. The tracks then separate from the car and move away.
The average parking time is between two and three minutes, while the carpark uses 40 percent less space than average parking lots.
When the owner comes back for the car, the robotic roller transports the car to the lift, where it's then raised to the floor above and reunited with its owner outside.
You can share this story on social media: