Facebook facing potential $2bn payout as Zuckerberg testifies in VR theft trial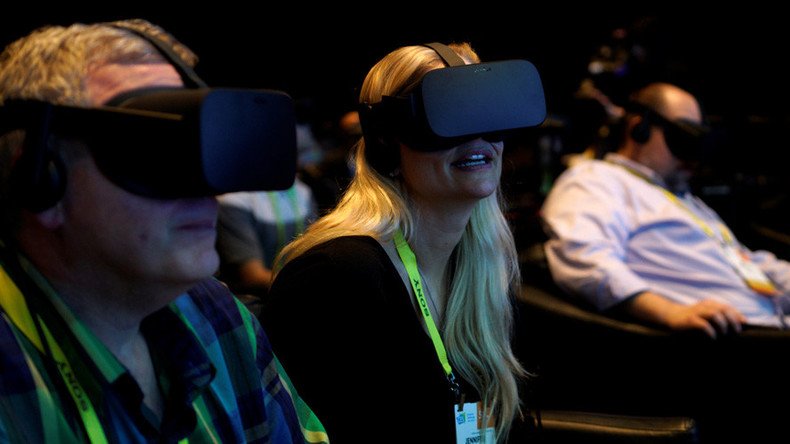 Mark Zuckerberg has appeared in a Dallas court to testify in a case where his company is accused of stealing virtual reality technology. If found guilty, the social network could be facing a US$2 billion payout.
Facebook is being sued by ZeniMax Media, which claims Oculus – bought by Facebook in 2014 – copied its early innovations when it built its Rift VR headset.
John Carmack, a games designer who co-founded id Software, now owned by ZeniMax, worked for both Oculus and id Software for a period of time. He is now the chief technology officer of Oculus.
According to ZeniMax, Carmack shared intellectual property with Oculus while he was still with id, including highly confidential information and copyrighted code.
"Carmack secretly and illegally copied thousands of documents containing ZeniMax's intellectual property from his computer at ZeniMax to a USB storage device which he wrongfully took with him to Oculus," court papers say.
Zuckerberg took the stand on Tuesday, and, perhaps surprisingly, claimed to have no knowledge of the existence of ZeniMax."Like most people in the court, I've never even heard of ZeniMax before," said Zuckerberg. "I know that our legal team would look into this and examine but they aren't going to take a lot of my time on something they don't think is credible."
He described his accusers as opportunists. "It's pretty common when you announce a big deal that people just come out of the woodwork and claim they own some part of the deal," he said.
ZeniMax's lawyer Toni Sammi argued that Facebook rushed the Oculus deal and didn't perform due diligence. When he put it to Zuckerberg that he wanted to complete that process over the course of a weekend, Zuckerberg replied, "yep."
Facebook's head of corporate development warned Zuckerberg that the Oculus team had told Facebook things that were "simply not true" during negotiations but the company proceeded with its acquisition despite ZeniMax suing Oculus, the court heard. ZeniMax then sued Facebook.
"We are highly confident that Oculus products are built on Oculus technology," Zuckerberg said. "The idea that Oculus products are based on someone else's technology is just wrong."
He said he "wasn't aware" that Carmack had code and thousands of documents from ZeniMax. "It's something we should investigate," he said.
It was revealed that Facebook actually paid $3 billion for Oculus, not the previously reported $2 billion figure. This was due to additional costs of $700 million to retain employees and another $300 million for targets payouts.
Carmack left id in November 2013. His lawyers argue he was allowed to work with other companies while at ZeniMax and that what Carmack shared were "the fruits of Mr Carmack's participation with Palmer Luckey [Oculus co-founder] and Oculus," and not the property of ZeniMax.
Given his lack of awareness of ZeniMax's existence, Zuckerberg explained that he had obviously not been aware of a 2014 non-disclosure agreement between the company and Luckey.
According to ZeniMax, Luckey, who founded Oculus in 2012, did not have the "expertise and technical know-how to create a viable virtual reality headset," and relied on ZeniMax to create the prototype.
It says Carmack "designed the specifications and functionality embodied in the Rift SDK and directed its development," when with id Software, transforming Luckey's prototype.
ZeniMax has also accused Oculus of "intentional destruction of evidence." It alleges Oculus executives stole its software by hiring Carmack and five other id Software employees.
Facebook claims ZeniMax chose not to invest in VR, and became interested in the technology only when Oculus was acquired by Facebook for billions in 2014.
Carmack, who testified last week, has said the case was "ridiculous and absurd." He admitted to copying thousands of emails to his hard drive on his last day at ZeniMax, but said he rewrote code from scratch for Oculus and that the ZeniMax code could not work in the current Oculus headsets.
Facebook had argued that Zuckerberg shouldn't have to answer questions, but the judge denied the request.
Media present at the court case were told tweeting from the courtroom was not allowed, after a number of reporters had been live tweeting Zuckerberg's statements.
You can share this story on social media: