World Snow Day celebrated globally, postponed in Russia's Far East due to… snow (VIDEOS, PHOTOS)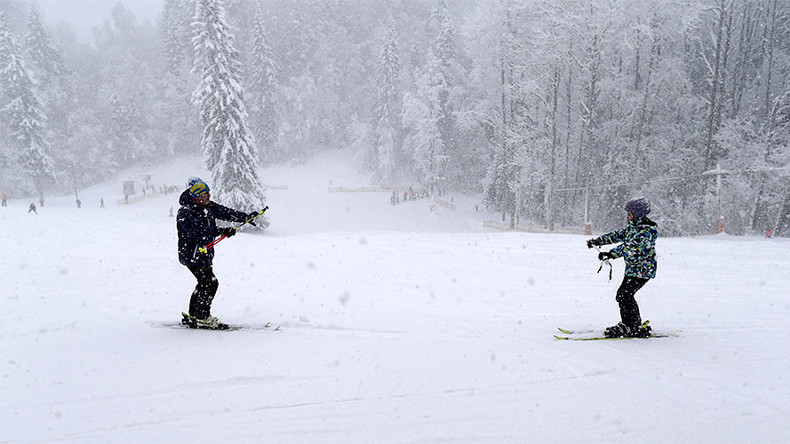 People across the globe celebrated World Snow Day by sharing images of snow covered landscapes, while also taking part in winter wonderland activities. Not everyone, however, was able to join in on the fun – for somewhat different reasons than expected.
While the festivities are obviously a no-go in areas that have no snow, the celebration along with its activities, which include hockey, sledding, and making snowmen, were cancelled in one part of Russia due to too much snow.
The Russian Island of Sakhalin in the Far East have postponed World Snow Day festivities to next weekend due to a blizzard, according to local authorities.
Elsewhere in Russia, however, snow revelers came out in full force on Sunday.
READ MORE: Drone video of snow covered Italian town shows devastating effects of quake months later (VIDEO)
The event, organized by the International Ski Federation, aims to encourage people, especially children, to get out and enjoy the snow. It is practiced in several countries, including the US, Canada, Russia, and France.
Many parts of the world are currently blanketed in the white fluffy stuff, providing ample opportunities for winter fun – and even the animals are getting involved.
Winter has arrived with a vengeance in Europe, with some parts of France, Poland, and Ukraine experiencing power cuts recently due to winter storms.
Freezing temperatures did not, however, deter people from braving the cold and making the most of their winter wonderlands.
It's just not Europe, however, that is in the middle of a snow storm – parts of Japan, China, and Afghanistan have also been snowed under during the cold snap.
Some people have been left disappointed by the lack of snow coming their way.
In Northern Ireland, the police force took to Facebook to express their devastation at the lack of snow balls for them to throw.
"You broke our snow craving hearts," they wrote above a wanted poster for a local weatherman, described as the "dream destroyer".
You can share this story on social media: