Chinese tech giant Tencent slammed over simulated oral sex leak (VIDEO)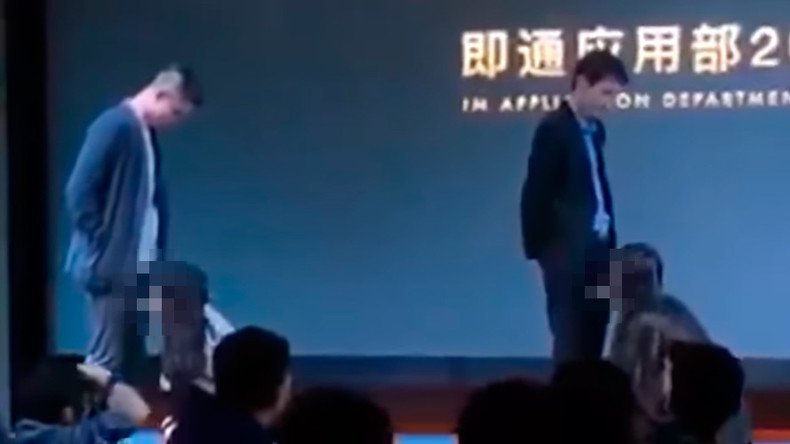 Chinese tech giant Tencent is facing massive backlash after footage of a lewd party game at one of its annual events was leaked online showing female employees simulating oral sex on stage.
The event in question was reportedly an end of year celebration organized by the company's instant messaging/microblogging service called Weibo.
The footage shows two female employees on their knees attempting to remove a plastic cap from a bottle wedged between the thighs of two male coworkers.
The video has been heavily criticized online, with many highlighting ongoing gender discrimination in corporate China.
Several major incidents have made the headlines in recent years highlighting the issue of sexism in Chinese corporate culture.
E-commerce giant Alibaba was slammed for a job ad that sought pornstar lookalikes to help motivate workers, while an executive at web services company Baidu was demoted for making sexist remarks during a presentation.
"If a girl says to me, 'the air conditioning in my dorm doesn't work, and I don't want to go home,' what does she mean? I think it means she wants to kiss and have some sex," said Liu Chao, the former head of user experience at Baidu.
READ MORE: Sexist men more likely to suffer from mental health problems – study
Luo Mingxiong the founder of the venture capital firm Jingbei, was quoted Techinasia.com as saying his firm "usually [does] not invest in female CEOs," at a presentation in Beijing last week.
"It's not because of any kind of prejudice. Just think about it carefully […] besides giving birth to children, what can women do better than men? Nothing," added a blog post on the company's website.
While Tencent employs over 30,000 people worldwide, it currently has no female board members or high level executives.
The company has issued an apology for the sex game incident and launched an internal investigation, but the response has been panned as lacklustre and insensitive.
The company, which has subsidiaries in social media, gaming, online media, and entertainment, has recently launched a competitor to Apple's AppStore called WeChat, but the negative PR from this incident will likely overshadow the online launch in the media.
You can share this story on social media: