Trump 'plays' accordion while discussing Russian hacking & Mexico wall in satirical video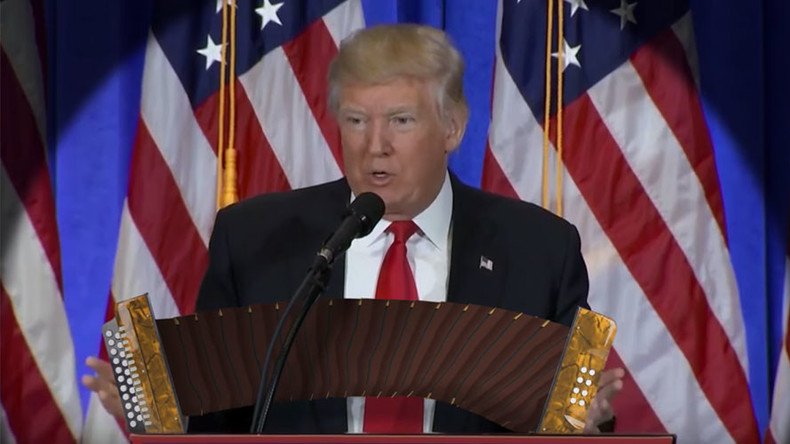 Donald Trump now plays the accordion, thanks to an Australian satirist who thought that some musical accompaniment might help the president-elect get his political points across more effectively.
And what better instrument for the future Commander-in-Chief but folk music's favorite – the accordion.
The flexible squeezebox adapts seamlessly between the space created by Trump's endless hand gestures.
Of course, this is no ordinary accordion – it's a "custom Trumpcordion made for tiny fingers," according to political satirist and video creator Huw Parkinson.
The shrill accordion tones provide the background for edited speeches in which Trump discusses alleged Russian hacking in the US election and the wall he has proposed building along the border with Mexico.
The video, which follows on from previous Trump playing accordion GIFs, has been met by an unsurprisingly humorous reaction, with some viewers even suggesting that Trump himself could be the headline act at his own inauguration next week.
We reckon that a folk faceoff with 'Weird Al' Yankovic could even be in the cards next.
Trump has yet to comment on Parkinson's video, but based on his previous reactions to Saturday Night Live skits, we're betting he won't be amused.
Just tried watching Saturday Night Live - unwatchable! Totally biased, not funny and the Baldwin impersonation just can't get any worse. Sad

— Donald J. Trump (@realDonaldTrump) December 4, 2016
Parkinson's previous viral work includes: 'Game of Thrones Winter is Trumping.'
You can share this story on social media: