Spectacular 'lava firehose' spews molten rock into ocean (VIDEOS, PHOTOS)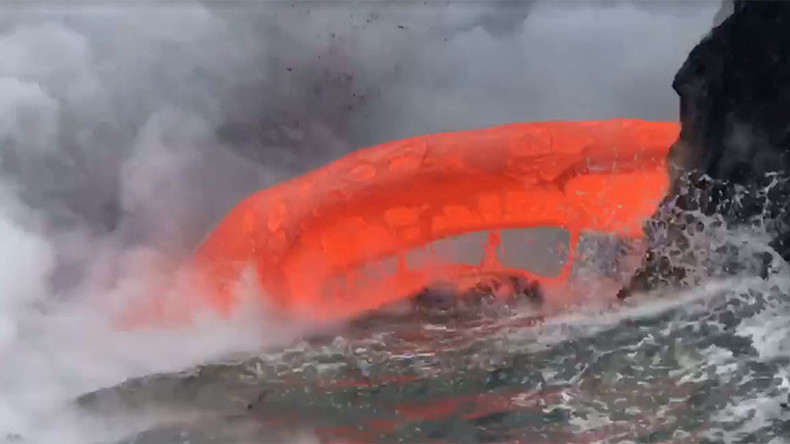 Rarely is the awesome power of mother nature witnessed so spectacularly than in the form of this "lava firehose" – piping hot molten rock being expelled at high velocity from a volcano in Hawaii.
A video released by Hawaii's Volcanoes National Park Service at Kamokuna on January 9 shows a dazzling "lava firehose" shooting a relentless stream of the molten rock from deep inside the earth.
Describing it as "surreal" and "unbelievable," viewers have been left awe-struck at the spectacular sight, with the video viewed almost 900,000 times so far on Facebook, amassing nearly 15,000 shares in the process.
Some were glad to be watching the spectacle from the comfort of their own home. "You won't catch me on that Lava Tour boat! That is way too close for comfort! That's CRAZY," commented one user, while another said they would "start worrying about the bottom of the boat melting."
It's not an entirely-rare occurrence, however, with visitors to the volcanic island usually able to marvel at lava flows from a designated viewing platform.
However, footage of this latest phenomenon has emerged just days after a large section of a delta at Kamokuna collapsed into the sea, causing the tourist viewing area to be temporarily closed.
READ MORE: Massive segment of famous Hawaiian island collapses into the ocean (VIDEOS)
You can share this story on social media: