Chewbacca mask delivers again: Mom-to-be dons disguise during labor (VIDEO)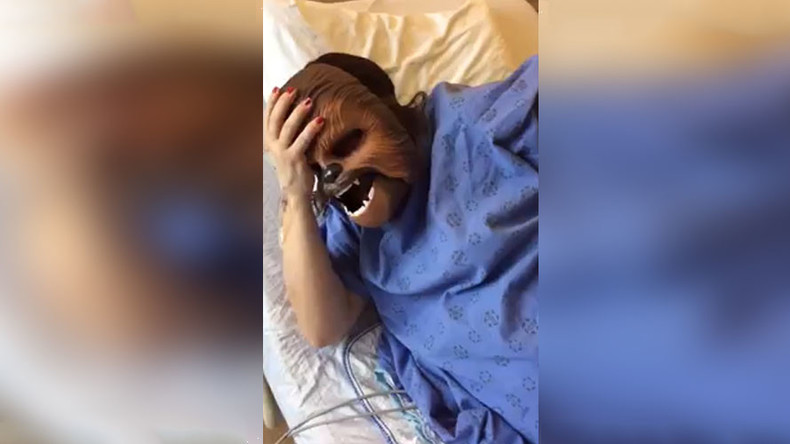 It seems the famous Chewbacca mask is the gift that always delivers. Almost literally in this case after a mom-to-be decided to wear the mask while giving birth.
Katie Stricker Curtis wore the 'Star Wars' character mask, which also has a built-in voice changer, while in labor, making her painful cries transform into Chewie's legendary growls.
READ MORE: Star Wars fans create amazing 'Speeder Bike' jetpack battle (VIDEOS)
In the short clip, which has now been viewed more than 250,000 times, the mother-to-be from Detroit is seen writhing in pain on the hospital bed as her cries are transformed into the movie's famous 'Shyriiwook' language.
Despite the pain, the new mom was up for a laugh: "Just because I'm about to be a mom doesn't mean I have to grow up," she wrote on her Facebook post, adding that people should "never take life too seriously! Best Christmas gift ever!"
Hundreds of Facebook users commented on the post, with moms-to-be seemingly interested in the unique approach. "Someone gotta get me one of these for labour," one commenter wrote while another commented that they might consider the mask "for our next one!"
You can share this story on social media: