Gator rodeo: Girl allowed to ride 8ft alligator's back as mother films (VIDEO)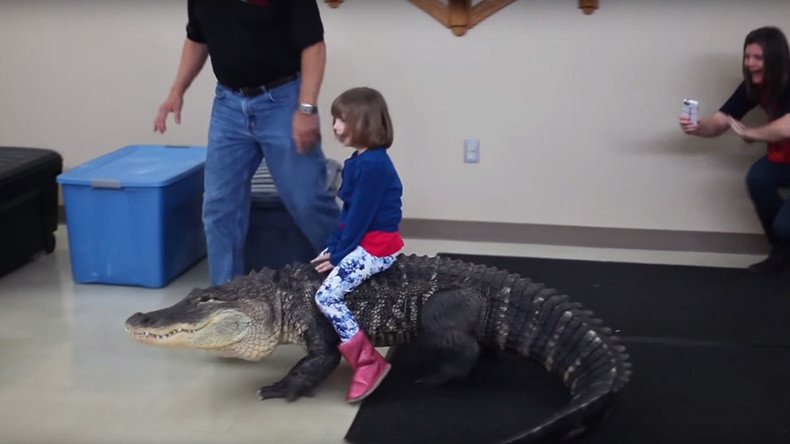 Some parents thought it was a good idea to let their child ride on the back of an 8-foot-long alligator during a birthday party entertained by a US group spreading awareness about the reptiles.
The gigantic predator was filmed walking around the room with the young girl on its back as adults took photos of the moment and laughed in the background.
The girl is seen jumping up and running away from the reptile at one point, but is then coaxed by surrounding adults to return and sit back on its back.
The incident apparently took place at a "Cold Blooded Creatures" event, run by a Chicago-based group that often holds events where people can get into close proximity with alligators, Yahoo News reported.
The Cold Blooded Creatures Facebook page shows its founder, Jim Nesci, performing at school assemblies and even Christmas parties with various reptiles. Nesci says he runs his "Reptile Education" programs under the motto "conservation through education." The self-taught reptile expert keeps a number of giant creatures, including gators, snakes, lizards and tortoises, in his own house.
Nesci is often filmed alongside Bubba, the 8-feet long, 200-pound North American Alligator said to be "the one and only" gator that takes commands from his owner. Bubba has become somewhat a TV celebrity, and has also appeared on screen with the late Australian animal expert "Crocodile Hunter" Steve Irwin, who was Nesci's friend.
You can share this story on social media: