Iconic 1,000yo California tree falls victim to winter storm (PHOTOS)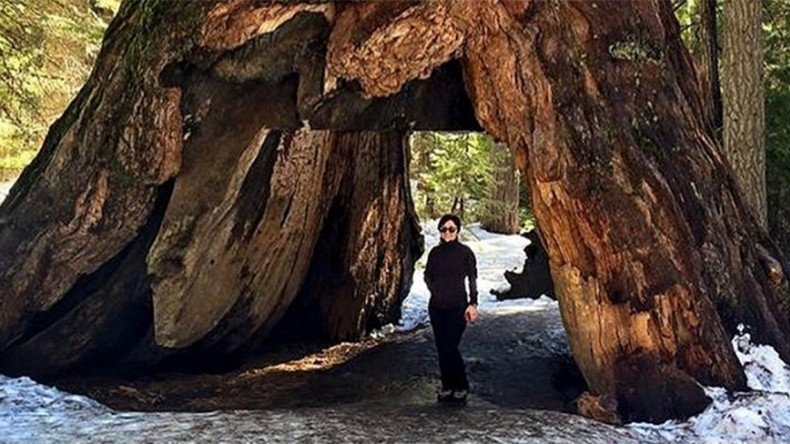 The powerful winter storm affecting California has claimed its oldest victim; the iconic Pioneer Cabin Tree, which is thought to be up to 1000 years old, was felled yesterday.
Photos of the fallen icon, captured by park volunteer Jim Allday, were posted to the Calaveras Big Trees Association Facebook page, accompanied by the caption: "The Pioneer Cabin tree has fallen! This iconic and still living tree - the tunnel tree - enchanted many visitors. The storm was just too much for it."
The giant sequoia tree was hollowed out in the 1880's to allow travellers pass through its massive trunk as they journeyed through Calaveras County.
At one point, even cars were able to pass through but recently only tourists and hikers were allowed travel under the trunk, which was part of the 'Big Trees Trail' at the Calaveras Big Trees State Park.
It seems many social media users have fond memories of the tree, with more than 1,900 comments already underneath its initial Facebook post. Such sentiments were echoed across the web.
While it's unclear why the tree fell, Allday believes it's most likely the result of its shallow root system being flooded due to the storm. "When I went out there (Sunday afternoon), the trail was literally a river, the trail is washed out, I could see the tree on the ground, it looked like it was laying in a pond or lake with a river running through it," Allday told SFGATE.
READ MORE: Robin Hood's Sherwood Forest hideout under threat from frackers
The storm was the most powerful of a recent series of extreme weather events that battered Northern California, causing widespread flooding, triggering mudslides, power outages and causing hundreds of people to be evacuated from their homes.
You can share this story on social media: