'Delightful way to start new year': Act of kindness frees tiny bird frozen to fence (VIDEO)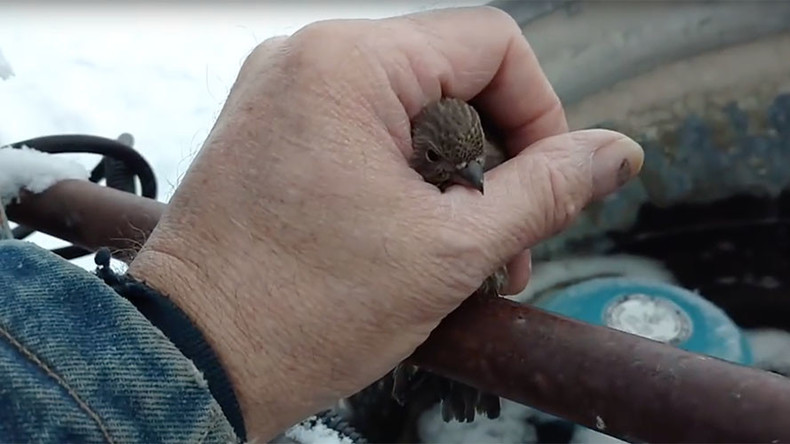 A small finch wasn't feeling too chirpy after its feet became stuck to a fence thanks to freezing temperatures in Idaho. Luckily, a kind man found the bird and his warm breath freed the little bird.
Nelson Miller said he was in the midst of feeding his horses when he found the tiny bird struggling to break free from the icy fence on New Year's Day.
Miller said birds often use the heated tank nearby for drinking but this one must have gotten its feet wet, becoming frozen on the fence in the process.
In the video, the bird was frightened and seen desperately trying to break free.
"First, I attempted to warm the feet of the frightened bird by pressing my palm against both the fence and the birds feet, while also gently retraining the bird's flapping wings," Miller said. "It then seemed that warming the bird's feet with my warm breath would bring quicker success."
Miller was correct and within a matter of seconds, the bird was freed and flew away.
"Gentle sideways motion with my thumb brought freedom for the frightened bird and a smile of satisfaction on my face… a delightful way to start a new year," Miller stated.
You can share this story on social media: