'Tree man' of Bangladesh 'cured' after undergoing 16 surgeries (PHOTOS)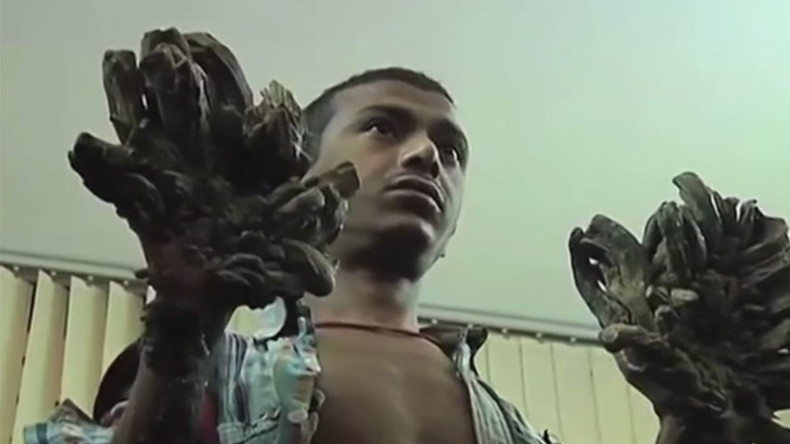 A Bangladeshi man who made headlines because of an extremely rare skin condition has undergone 16 operations to remove countless growths from his hands and feet and doctors now believe he's been cured.
Abul Bajandar was dubbed the "tree man" because of the large, wood-like warts on his body. The warts are caused by an incredibly rare genetic condition called epidermodysplasia verruciformis (EV). Doctors at Dhaka Medical College Hospital have removed five kilos (11 pounds) of growths from Bajandar since they began treating his condition a year ago.
They believe if the warts do not grow back, Bajandar will be the first person ever to recover from the genetic disease which predisposes sufferers to widespread wart infections and carcinomas.
"I never thought I would ever be able to hold my kid with my hands," Bajandar told AFP news agency. "Now I feel so much better. I can hold my daughter in my lap and play with her. I can't wait to go back home."
He has been receiving free treatment at Dhaka Medical College Hospital since his condition came to the attention of doctors a year ago. His wife and daughter has been living at the facility with him for the past 12 months.
Plastic surgery coordinator Samanta Lal Sen described Bajandar's recovery as "a remarkable milestone in the history of medical science" and added that his hands and feet were "almost fine".
"We operated on him at least 16 times to remove the warts. The hands and feet are now almost fine. He will be discharged within next 30 days after a couple of minor surgeries to perfect the shape of his hands," Sen said.
Bajandar, from Bangladesh's eastern district of Khulna, used to work as a rickshaw driver but he was forced to quit after his condition worsened.
Bajandar received donations from people around the world when his story went viral and told AFP that he plans to set up a small business when he finally gets out of hospital.
Another prominent EV-sufferer Dede Koswara, who came to international attention after featuring in a number of documentaries, died from organ failure in January 2016. The Indonesian man had been receiving treatment for nearly a decade, requiring several surgeries a year to keep the 'tree bark' warts at bay.
You can share this story on social media: