Heroic 2yo saves twin brother trapped under heavy furniture (VIDEO)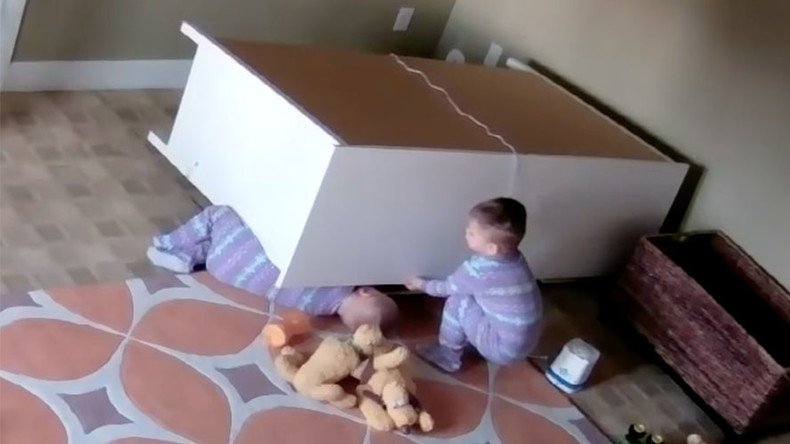 A young boy has been hailed as a hero after rescuing his twin brother, who was trapped under a large dresser that had tipped over in a bedroom.
Footage of the incident was posted on Facebook by proud father Ricky Shoff after a bedroom security camera captured the moment in Utah.
Bowdy, 2, is seen trying to lift the fallen dresser from various angles. At first it doesn't budge as his brother Brock desperately tries to wriggle free.
Yet withIn a matter of moments, quick-thinking Bowdy manages to push the heavy piece of furniture enough to free his twin brother.
Writing on Facebook, the father of the twins said he wanted to "bring awareness" by posting the video of the incident.
"I've been a little hesitant to post this," Shoff wrote. "But I feel it's not only to bring awareness, but it is also incredible. We are so grateful for the bond that these twin brothers share."
Shoff also urged parents to ensure dressers are safely bolted and secured to the wall to avoid such accidents.
"We know Bowdy was not alone in moving the dresser off of Brock," he added. "And feel blessed that he is ok."
You can share this story on social media: