Daredevil's failed pool jump ends with horrific injuries (GRAPHIC VIDEO)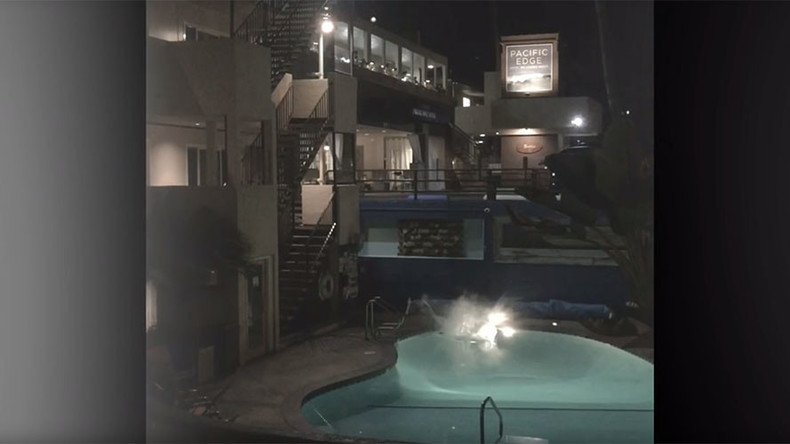 A daredevil who ignored the "no diving" signs and jumped from a building into a swimming pool is facing US$274,000 in medical bills after breaking both feet and heels.
Known as 8Booth on YouTube, the daredevil uploaded his video showing the moment he hit the ground first before falling into the pool.
Having successfully completed the jump seven times, he didn't have luck on his side for his seemingly-unnecessary eighth attempt, leaving him to crawl out of the pool before he could find help.
Warning: The video contains images of his injuries which some viewers may find graphic.
Posting on GoFundMe, he apologized for sharing images of his shattered feet and ankles saying he desperately needed support. "I'll be working the rest of my life to pay this off. Asking a small favor from you. A donation of any kind would be phenomenal," he says, posing in a hospital bed with his face masked. So far, he has raised $980 of the $274,000 target.
Commenters on his video have had mixed feeling about donating. "He got diagnosed with being AN IDIOT," one said, with another saying "If you play with fire, you get burned."
Others were more sympathetic though, commending 8Booth on getting injured doing the work he loves and wishing him a full recovery. "At least he got hurt doing what he does well, rather than some sh*tty dead end job, get well bro," one user said on Instagram.
The jump was part of a series of 'Pool Drop' videos, with the seven before showing him making the jump successfully. Time will tell if the much-anticipated sequel 'Pool Drop 9' ever gets made.
You can share this story on social media: