DAPL activists make daring protest during NFL game (PHOTOS, VIDEO)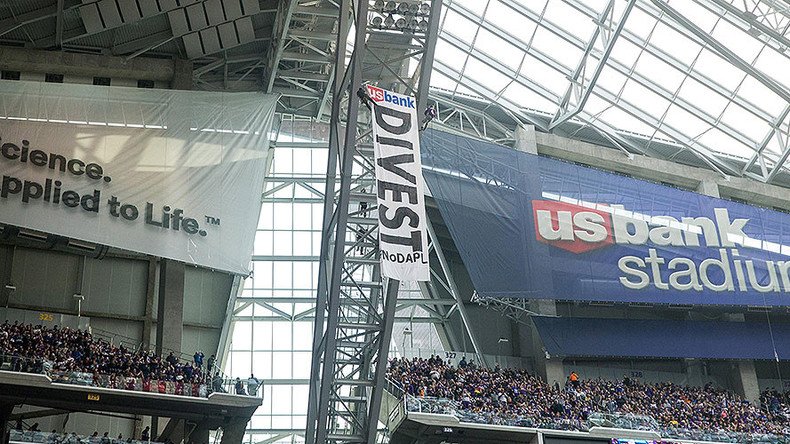 With much of the furor surrounding the Dakota Access Pipeline (DAPL) protests subsiding over the holiday period, two activists made sure the issue would not be forgotten so easily by scaling the US Bank Stadium in Minneapolis to register their protest on New Year's Day.
The game between the Minnesota Vikings and the Chicago Bears was already underway when two protesters, later identified as Sen Holiday, 26, and Karl Mayo, 32, climbed one of the main support trusses of the stadium.
Once in position, they rappelled from the platform near the roof of the stadium to unveil a huge banner with "US Bank DIVEST #NoDAPL" written on it.
The game continued but fans in the section immediately below the protesters were ushered away amid safety concerns.
A Fox News correspondent, who was at the scene, tweeted about the barrage of boos from the crowd as the protesters were eventually arrested.
The protest comes at a precarious time for Energy Transfer Partners (ETP) with highly volatile oil markets and increased public scrutiny following a protracted campaign of protest at Standing Rock that has gone viral many times. It appears that resistance to the project is still gathering momentum.
READ MORE: Year of discontent: Biggest US protests of 2016
Since November 2016 over $40m has been divested from ETP. In court, the company has claimed that each month of delay in the project costs in the region of $4.5m and that if the pipeline does not launch as scheduled in 2017, the ultimate loss for ETP could be in the region of $1bn.
You can share this story on social media: