'Worst night of my life': Tourists burned in NYE Full Moon Party fireworks mishap (VIDEOS, PHOTOS)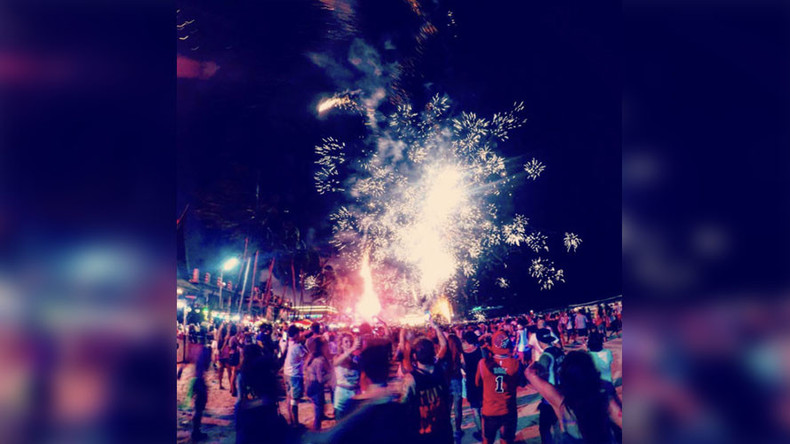 New Year's celebrations proved painful for revelers at Thailand's Full Moon party when a shower of red hot sparks sprayed the crowd after a pyrotechnics display went wrong.
As backpackers gathered to ring in the new year on the famous Koh Phangnan island, celebration turned to panic as a big sign reading 'Happy New Year 2017' was set alight. High winds coming from the sea sent sparks from the fiery sign flying into the crowd.
Videos show revelers screaming as they run to avoid the red hot sparks moments after midnight.
Backpackers reported sparks raining down on them, leaving small burns scattered across their bodies. Lucy Coyle described the night as "the worst night of my life."
Tourists in the crowd of about 20,000 reported an almost stampede close to the sign as people tried to get away from the shower of burning embers.
New Zealander Maidson Reidy told TVNZ, "My whole body was burning; I could feel sparks stinging my face, legs and arms. It felt as though all of my skin was on fire."
"We think the female tourist next to us broke her ankle after being trampled on by the crowd," she added.
A 26-year-old Canadian who was at the party died early Sunday after he was found unconscious in the water, the Bangkok Post reports. He was pulled from the choppy water along with a woman, but he later died.
"One female tourist aged around 30 was slightly injured, she got treated and went away," Colonel Somchai Noppasri, the island's police chief, told AFP.
Many backpackers experience burns at Thailand's monthly full moon party on Haad Rin beach, as well at other tourist spots around the country. Fire throwers, flaming skipping ropes and jumping through rings of fire are common - though not very sensible - past-times for partying backpackers.
You can share this story on social media: