NSFW shopping: Graphic porn played on Chinese mall billboard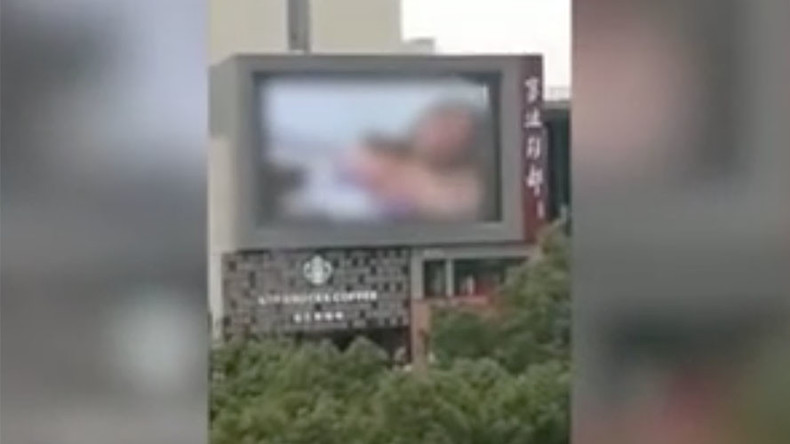 Shoppers in Ningbo, China were left shocked when a billboard screen began playing porn outside a busy shopping mall after a worker accidentally uploaded his personal movie collection.
In an embarrassing work fail, a mall employee had been using their own laptop to carry out debugging tests on the billboard in Ningbo Tianlun Square on Wednesday.
When they stepped away for a few minutes, the test animation video ended and the laptop continued on autoplay. As a result, a naughty video of a woman stripping began to play, subjecting the people of Ningbo to more than five minutes of graphic sexual content on the big screen.
Shocked shoppers reported the X-rated billboard to the police in Yinzhou. The worker in question was investigated and the mall released an apology, but according to Chinese media, many locals found the video amusing.
Footage of the incident was posted on Chinese social media, with plenty of onlookers heard laughing at the impromptu display.
This isn't the first time a worker's porn collection has landed them in hot water. In August 2015, a billboard at a shopping mall in Lishui city in China's Zhejiang province also played sex scenes to surprised shoppers.
In 2013, residents of China's Jilin province were subjected to about 10 minutes of the porn movie The Forbidden Legend: Sex and Chopsticks playing on the big screen at a public square.
A technician had taken a break from working on the screen to enjoy a little porn on his laptop, not realising it was still connected to the big LED screen.
You can share this story on social media: