#Brexit, #WikiLeaks & #Trump: RT's top tweets of #2016 (PHOTOS)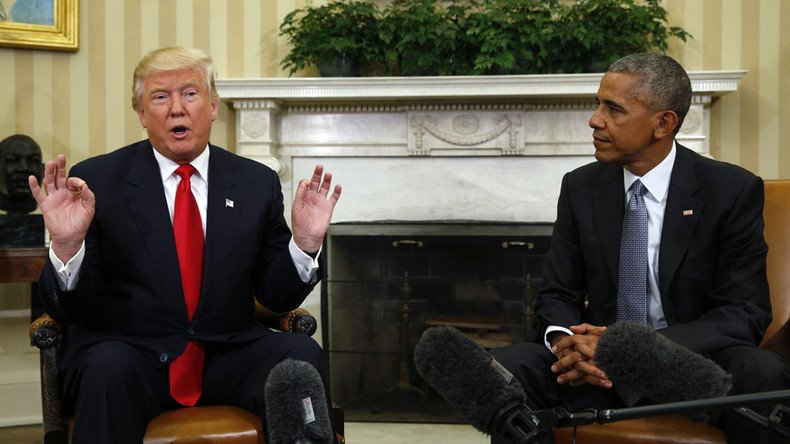 This year has been a whirlwind of major events, from the bombing of Brussels airport by Islamic extremists, to catastrophic air disasters, war in the Middle East, and the deaths of much-loved personalities.
2016 also saw activists and water defenders triumph at Standing Rock, successfully blocking the Dakota Access Pipeline project, as well as major upsets in both the Brexit vote in the UK and the presidential election in the US.
Here are the top RT tweets that brought this year's key events straight to you.
February
Saudi court sentences man to 10 years and 2,000 lashes for atheist tweets
URGENT: Leonardo #Dicaprio finally wins Oscar for role in The Revenant
March
'Allah ordered me' to kill child: Beheading nanny appears smiling in court
UPDATE: 55 passengers,7 intl crew members killed as #Boeing-737 crashes in Southern Russia
BREAKING: 11 dead, 20 injured at #Brussels airport explosion - reports
FIRST PHOTO: Inside #brusselsairport terminal after two large explosions
May
June
URGENT: CCTV of police shooting an #Istanbul airport attacker before he detonated himself
BREAKING: Boxing legend Muhammad Ali dies at age 74
BREAKING: 1,000,000 sign petition calling for 2nd #Brexit referendum
August
Soros hacked, thousands of Open Society Foundations files released online
September
Anonymous hacker who helped expose gang rape faces 16 years in prison, rapists walk free
Photo Bombing: Syrian rebel accidentally triggers explosion while taking selfie
November
RT and WikiLeaks 'collusion' explained
#BREAKING: 'Russia is ready to restore relations with US' - Putin on #Trump victory
Fidel Castro, Cuba's longtime leader dies at 90
Plane carrying Brazilian football team missing in #Colombia – reports
December
BREAKING: #DAPL protesters proclaim #victory as pipeline forced to change route
PHOTO: Shooter standing behind Russian Ambassador moments before opening fire
UPDATE: Police detained 'wrong man' #BerlinAttack suspect still at large – German media
You can share this story on social media: