Most explosive NYE fireworks from around the world (VIDEOS)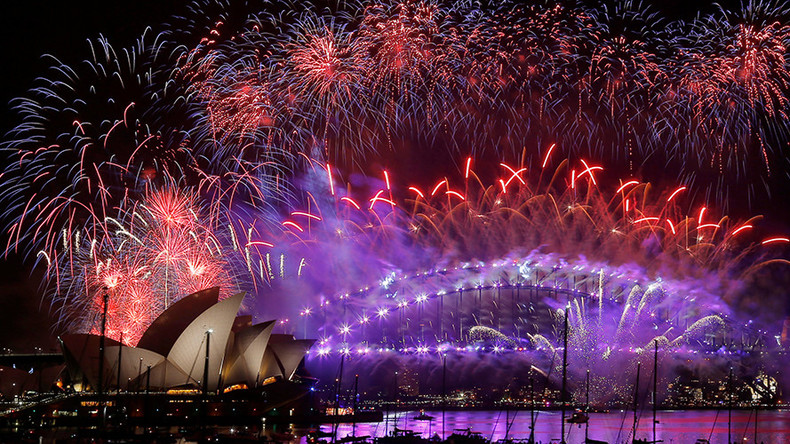 The world celebrated in style as 2017 finally arrived, putting on some of the biggest fireworks displays ever seen. We take a look back at the celebrations as they unfolded around the globe.
Sydney was amongst the first cities to welcome 2017, and, as always, put on a spectacular show that lit up the Sydney Harbour Bridge with a massive fireworks display.
Beijing's Olympic Forest Park hosted musical performances and some fireworks as thousands of revelers greeted the New Year in China.
In the same time zone, Marina Bay in Singapore saw a large crowd show up for its annual fireworks display, as phones were held high in the sky to capture the moment.
Next up was Dubai, where crowds were gathering all day to be guaranteed a view of the world's tallest building, the Burj Khalifa, which was turned into one of the greatest shows on Earth as the clock struck midnight.
As always, Moscow did not disappoint, with fireworks lighting up its iconic skyline as thousands of Muscovites reveled in Red Square to ring in 2017.
While security may have been tight in Berlin following the attack on a Christmas Market earlier in December, that didn't put a damper on the celebrations. As always, the Brandenburg Gate put on one great show.
In London, a mix of locals and tourists along the Thames enjoyed what may have been the UK's penultimate New Year's Eve as part of the EU, as the London Eye was eclipsed by an impressive fireworks display.
One of the first cities in the Americas to welcome 2017 was Rio de Janeiro, where crowds gathered for the annual New Year's Eve party on Copacabana Beach, which provided a perfect view of the city's fireworks display.
One reveler in the video below almost had his night ruined though when someone tried to steal his phone. Luckily he got it back - this in 2017 after all, not 2016.
Among the last cities in the world to ring in 2017 was San Francisco, where crowds gathered at numerous vantage points around the city to witness the fireworks over the iconic Golden Gate Bridge.
Spectacular pyrotechnic shows were not reserved strictly for big cities, however. Protesters at Standing Rock also greeted the New Year, as people opposed to the construction of the Dakota Access Pipeline set off fireworks on neighboring Turtle Island so that those beyond the wire fence would not be left out of the celebrations.
You can share this story on social media: