'Santa stands with Palestinians!' Red-suited protesters clash with Israeli police (VIDEOS)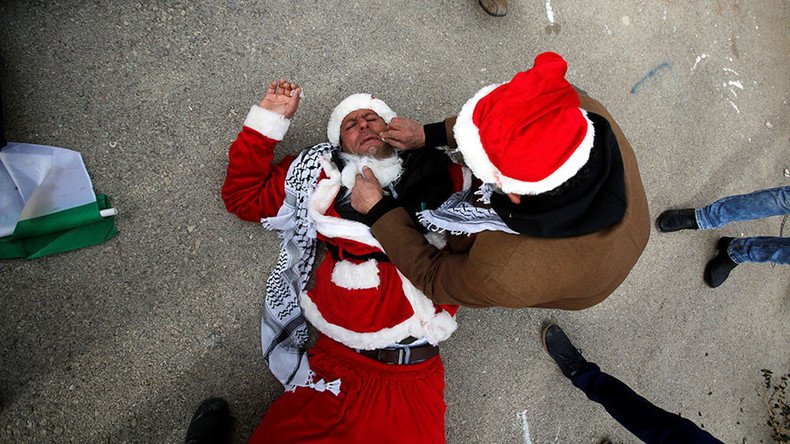 Palestinian protesters dressed in Santa outfits clashed with Israeli forces in Bethlehem – the birthplace of Jesus according to Christian tradition. The IDF used tear gas to suppress the crowds ahead of Christmas celebrations.
Wearing symbolic red suits and white beards, with some completing their outfits with traditional Palestinian keffiyehs and even gas masks, the protesters marched towards a checkpoint connecting Bethlehem to Jerusalem.
Calling for the free movement of people between the two cities, activists carried signs which read "Santa Claus stands with the Palestinian people" and "Jesus came with a message of peace, his city suffers oppression."
The procession of roughly one hundred activists was halted on Friday by Israeli troops in front of Checkpoint 300, which serves as one of the main transit gates between occupied West Bank cities.
Israeli soldiers fired tear gas, pepper spray and stun grenades at Palestinians who allegedly attacked IDF lines with rocks.
A Palestinian protester dressed as Santa Claus and wearing a tear gas mask returns a tear gas canister during clashes with Israeli border pic.twitter.com/QVnUP6ALup

— Rafat Darawsheh (@rafatdarawsheh) December 23, 2016
A number of people were injured, including journalists, after the activists were met by force, according to reports. Several people suffered smoke inhalation injuries during the clashes. At least five journalists covering the event, were also injured, Ma'an reports.
Israel defended its actions, saying that Palestinians pelted stones at IDF lines, which forces the soldiers to respond.
"15 men ... threw rocks at Israeli soldiers," an Israeli border police spokesperson told Ma'an, adding that "some of them were dressed as Santa Claus and tried to cross the checkpoint between Bethlehem and Jerusalem." The spokesperson added that two Israeli soldiers suffered light injuries in the clashes.
READ MORE: 14 injured as Palestinian 'Santas' clash with Israeli police in Bethlehem (VIDEO)
This is not the first year that Santas have clashed with the IDF around the the Christmas period in the West Bank. Similar scuffles erupted both in 2015 and 2014.
You can share this story on social media: