'Some kind of signal to the Russians?' Snowden's KFC tweet confuses internet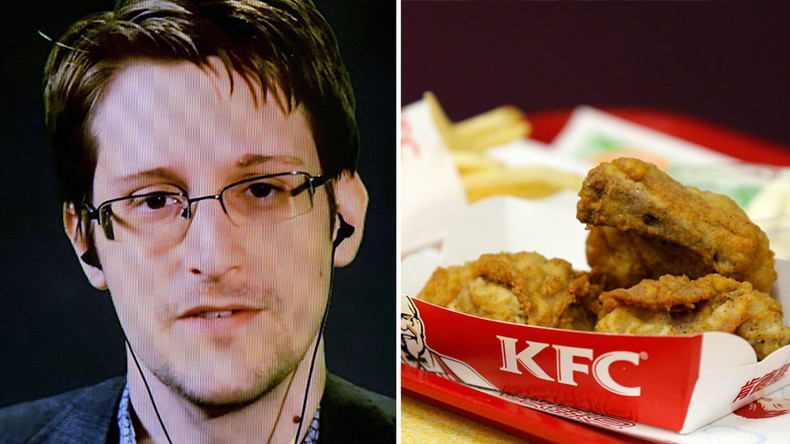 Donald Trump is no longer the king of bizarre KFC tweets after Edward Snowden featured a branded bucket of the fast food restaurant's "chicken" in a photo wishing his followers "Happy Holidays."
"In times of hate, love is a revolution. Happy Holidays, internet," Snowden tweeted Thursday, alongside a picture of him in a loving embrace with his girlfriend, Lindsay Mills, and a big bucket of KFC.
"Enjoy the Citizen Four-Piece Meals at all participating KFC locations," one tweet read as social media users became confused by the bucket's prominence in the image.
"Snowden.Trump. When we see a bucket of KFC is it some kind of signal to the Russians?" one user asked, wondering if the Kremlin was now using buckets of chicken as a means of communication.
Some wondered if Snowden was now making money off sponsored content, being paid to include famous brands on his popular social feed.
It turns out though that the whistleblower just loves chicken, claiming he has "never been paid for any posts. It's just something we do."
Snowden's tweet brought back memories of when Donald Trump tweeted a picture of himself enjoying the Colonel's chicken aboard his private plane, confusingly using a knife and fork.