Massive molten river found running beneath Canada, Russia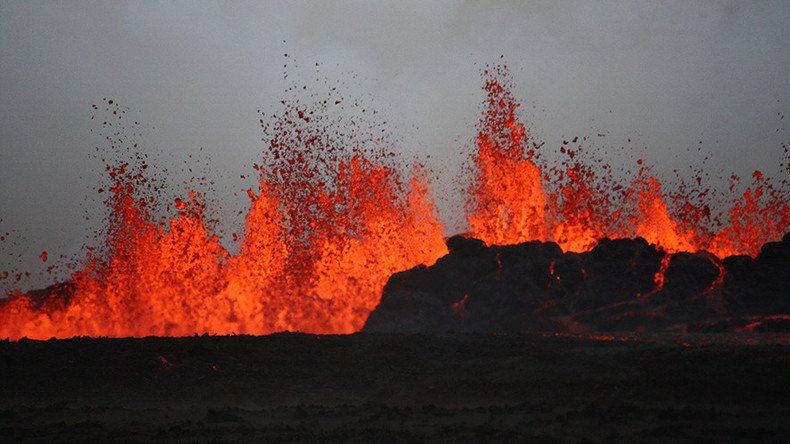 Scientists have discovered a stream of molten lava running from Canada to Russia some 9,000 kilometers (5,500 miles) beneath the Earth's surface using the latest satellite X-ray technology.
The immense jet stream within Earth's molten iron core spans about 420 km in width and runs at a temperature nearly as hot as the sun.
"We know more about the sun than Earth's core," said Chris Finlay, co-author of the study that was published Monday in Nature Geoscience. "The discovery of this jet is an exciting step in learning more about our planet's inner workings".
This is the first time the jet stream has been seen clearly, with the help of the European Space Agency's Swarm mission, which features a trio of satellites that simultaneously measure and decipher magnetic signals coming from Earth.
"The European Space Agency's Swarm satellites are providing our sharpest X-ray image yet of the core," said lead researcher Dr. Phil Livermore, from the University of Leeds. "We've not only seen this jet stream clearly for the first time, but we understand why it's there."
For years, scientists monitored the Earth's core by measuring the planet's magnetic field. From that, research scientists knew that iron in the outer core was moving faster in the northern hemisphere, in particular under Alaska and Siberia.
Now, data from the Swarm satellites has revealed the changes in speed are being caused by a jet stream moving at more than 40 kilometers per year – hundreds of thousands of times faster than the speed of Earth's moving tectonic plates.
​READ MORE: 'Underground oceans' potentially have 3 times more water than surface – study
Interestingly, the stream has picked up speed significantly over the last two decades. Since 2000 alone, the river has tripled in speed "and is now much stronger than typical large-scale flows inferred for the core," the study says.
"We can explain it is an accelerating band of molten iron circling the North Pole, like the jet stream in the atmosphere," added Livermore, from the School of Earth and Environment.
It is hoped that the discovery will lead to much-needed further understanding of the Earth's inner structure and shed some light on exactly what generates the planet's magnetic field.
"If we can understand how the field is generated, we understand how it changes over time and whether and when it will weaken and reverse," said Livermore.
You can share this story on social media: