New virtual 'female companion' offering more than just weather advice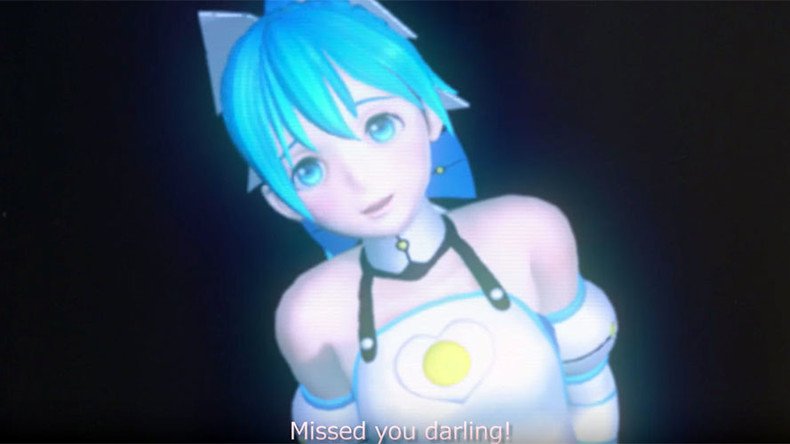 Japanese startup Gatebox have created an expensive hologram digital assistant that's specifically designed to provide companionship to people who live alone.
Gatebox's AI is called Hikari Azuma. According to her official site, she is 20 years old and 158 cm tall. She likes donuts and anime and her speciality is making fried eggs. She dislikes insects and her dream is to "become a heroine to help people who are working hard."
Short skirt-wearing Hikari lives in a high tech glass box that looks like a fancy coffee machine. Similar to other virtual assistants, such as Google Home or Amazon Echo, she can control household appliances and other devices as well as make helpful suggestions like, "It may rain today, take your umbrella with you."
However, she explicitly offers what others don't - by playing the role of partner for her "master."
Gatebox's website says: "She is a comforting character [who] is great to those living alone. She will always do all she can - just for the owner."
Hikari apparently "uses her own judgment" to talk to her master in her "ultimate healing voice" and as you spend more time with her, she recognizes your patterns and habits and adapts to your schedule.
She also comes with a special messaging app so you can stay in contact with her when you are apart. This is pitched as one of the main selling points in a promotional video Gatebox released.
The video heavily emphasises the "girlfriend" role she plays, as she seems to be the only ray of sunshine in her owner's life. "You know, somebody's home for me, feels great. Thought so, on my way home," he says.
Hikari, who was voiced by young Japanese actress Yuka Hiyamizu, can hook up to a computer through a HDMI cable. "You can watch movie contents, create original characters, or even just use for your own pleasure," the website explains. What people would use that for one can only imagine.
The device is currently slated for release in December 2017, but people can pre-order it until the end of January on the company's website. The machine costs 298,000 yen ($2,526.60), not including tax, which dwarfs the price of other virtual assistants on the market.
Amazon's Echo costs $179.99 while the Google Home retails for $129. However these are more straight-forward products that don't specifically target people who may be looking for companionship.
You can share this story on social media: