Man swept to his death in violent flood as Spain battles fierce storms (VIDEO)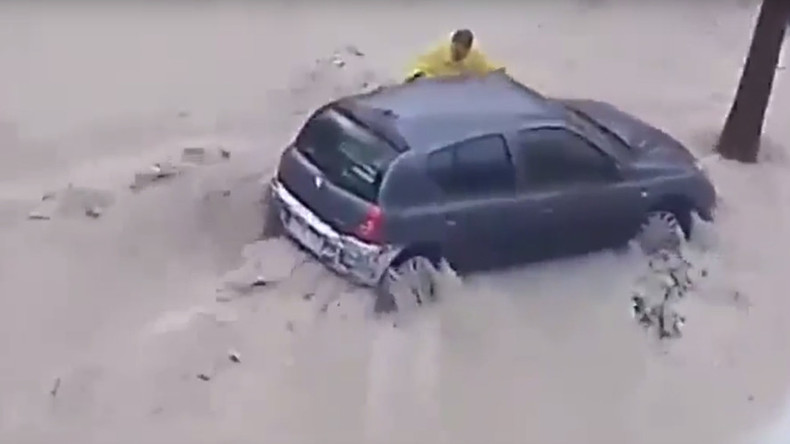 A man was swept out to sea as he battled severe floods to try to reach his car in Benidorm, Spain at the height of a deadly storm that continues to rage in the southeast of the country.
The 76-year-old drowned at the Cala Finestrat beach resort near Benidorm on Saturday, despite efforts by local police to save him, reported Diario Informacion.
A video recorded by neighbors from a nearby apartment shows the man lose his footing and fall into the water as he opens his car door, before being dragged out to sea. Two officers waded into the churning water in a desperate rescue bid, but were unable to reach him.
The man's body was located 20 minutes later by Guardia Civil officers. At the time of the incident, a severe weather warning was in place for Costa Blanca, with waves of up to 4 meters forecast, along with heavy downpours and winds of up to 80 kilometers per hour.
Weather warnings remained in place on Sunday as meteorologists warned that the adverse conditions would continue for another 24 hours.
A 30-year-old man was killed on Friday night in El Grao de Castelló, some 230 kilometers north of Cala Finestrat, when his car crashed during the storm and overturned into a ditch.
The severe weather conditions have also prompted evacuations, with people trapped in their vehicles, road closures, and landslides across the 200-kilometer coastline in the province of Alicante.
Murcia and Torrevieja are among the areas worst hit.
Residents of the affected area have been advised to stay indoors and extreme caution is recommended if undertaking necessary trips.
Schools in many of the storm-battered cities will remain closed on Monday as a precautionary measure, according to Diario Informacione.