Surf's up: Record-breaking wave hits height of 6-story building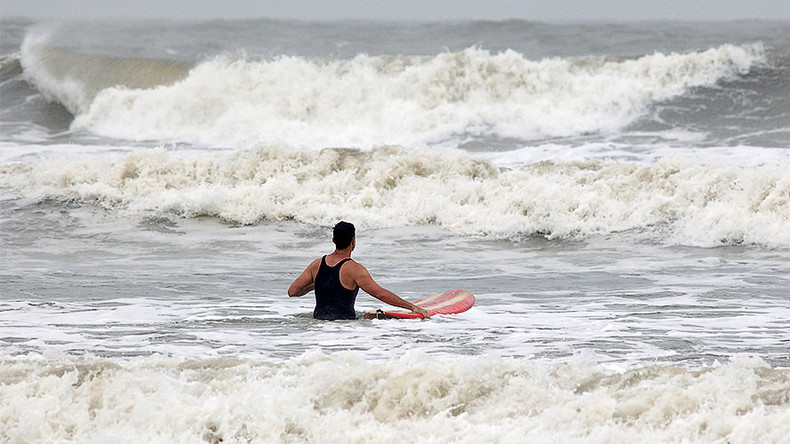 A massive wave reaching a whopping 19 meters-tall in the North Atlantic Ocean has set a new world record.
Recorded by an automatic buoy on February 4, 2013, the gigantic wave reached a height equivalent to a six-story building, according to the World Meteorological Organisation (WMO).
The wave occurred in the waters between Iceland and the UK and followed the route of an extremely strong cold front which produced winds of around 80kph (50mph) over the area.
The former world record of 18.275 meters was recorded on December 8, 2007, in the North Atlantic.
The WMO Commission for Climatology's Extremes Evaluation Committee, whose team of scientists are from the UK, Canada, US and Spain, called it "the highest significant wave height as measured by a buoy."
WMO Assistant Secretary General Wenjian Zhang said it was the first time a wave of 19 meters was ever measured, calling it a "remarkable record."
"It highlights the importance of meteorological and ocean observations and forecasts to ensure the safety of the global maritime industry and to protect the lives of crew and passengers on busy shipping lanes," he said.
READ MORE: Stunning footage captures helicopter's nail-biting landing on ship (VIDEO)
The UK Met Office, which has a series of Marine Automatic Weather Stations, recorded the wave in partnership with the international observing network, also coordinated by the WMO.
While 19 meters is the record wave height as measured by a buoy, it pales in comparison to that measured by ship observation. Measured in February 2000 in the Rockall Trough, also in the North Atlantic, a wave of 29.05 meters in height was recorded.
"We need high quality and extensive ocean records to help in our understanding of weather/ocean interactions," Zhang added. "Despite the huge strides in satellite technology, the sustained observations and data records from moored and drifting buoys and ships still play a major role in this respect."
The observation of ocean conditions is vital for gathering research on the world's weather systems.
Oceans form around 70 percent of the planet and although satellite technology helps with the process of monitoring movement, it still isn't completely reliable at gathering data about oceans, which is why buoys continue to be deployed across the world.
Buoys are able to ride the ocean waves and measure water speeds and direction, along with the temperatures of air and water.
The WMO's Randall Cerveny said the new world record will be added to the organization's archive of weather and climate extremes, insisting "ocean observations are therefore critical to understanding and forecasting our weather and climate."