Pagan priest wins right to wear horns on photo ID (PHOTOS)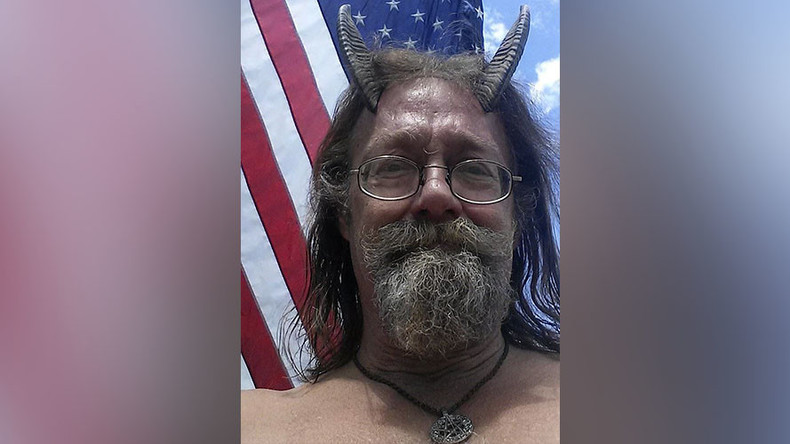 A Pagan priest has won the right to wear horns on his head for his driver's licence photo. The 'Priest of Pan' was originally denied the right but successfully fought to gain the same recognition as other religions.
Phelan MoonSong has been wearing the genuine goat horns since 2008 and claims to feel naked without them. As they are such an important part of his paganism, he wore his "Horns of Pan" to the Bureau of Motor Vehicles (BMV) in Bangor, Maine to pose for his new driver's license photo.
"I was eventually called up and the clerk asked me if my horns were implanted and I told her they are not," he explained to The Wild Hunt.
The clerk obliged regardless but told MoonSong the ID would need to be approved by the secretary of state and that he would have to submit religious documentation to prove his claims.
Spokesperson Kristen Muszynski told Bangor Daily News, however, that such documentation "is not something that we [secretary of state] formally require," although she did add that she couldn't "speak for the customer service person."
In light of paganism not having a governing body to provide such documentation, MoonSong wrote a personal essay on why his "Horns of Pan" were important to him and his spirituality.
Weeks later, he was told his submission had been denied, much to his disappointment as he had outlined in his essay how his horns were no different to a nun's habit or a Sikh's turban, which are permitted under Maine law.
The BMV eventually relented after he revealed he was seeking assistance from the Maine Civil Liberties Union. MoonSong received his ID this week, with his horns fully visible in the photo.
"They sent me nothing else or no further explanation. Just received my ID in the mail after my last visit," MoonSong told RT. He described Paganism as "nature-worshiping, polytheistic or pantheistic religion which incorporates beliefs and ritual practices from ancient traditions."
MoonSong is hoping to start a temple in his hometown of Millinocket, where he aims to provide a "safe, friendly environment to celebrate and honor the old Goddesses and Gods."