Wonder Woman fired from 'job' as honorary UN equality ambassador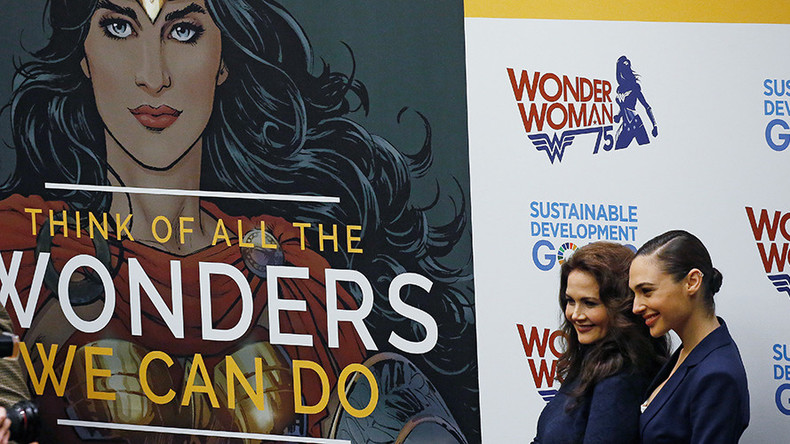 Less than two months after getting a role as an honorary ambassador to raise awareness about female empowerment, it's back to the fictional day job for Wonder Woman after the UN ended its campaign with the comic book heroine.
In the short period after appointing the fictitious character as the face of the campaign, the UN revealed it is cutting the campaign short, with Friday being Wonder Woman's last day in the role.
DC Comics, owned by DC Entertainment, hold the rights of the character and had announced the campaign in October and the plan had been to promote the campaign well into next year.
Following the original announcement in October, however, the move was heavily criticized due to the superhero's "sexualized" appearance. A petition against the UN's choice, which was created by "Concerned United Nations staff members," also garnered almost 45,000 signatures.
"Although the original creators may have intended Wonder Woman to represent a strong and independent 'warrior' woman with a feminist message, the reality is that the character's current iteration is that of a large breasted, white woman of impossible proportions, scantily clad in a shimmery, thigh-baring bodysuit with an American flag motif and knee high boots – the epitome of a 'pin-up' girl," the petition stated.
Reaction to the announcement has been mixed, with some echoing the comments of the petition and the UN generally, while others defended the superhero.
The superhero first made an appearance in comic books in 1941 and has been an iconic figure since her debut decades ago.
The UN did not give any details on why it chose to drop the Wonder Woman campaign, according to Reuters, but spokesperson Jeffrey Brez said fictional characters were typically used for a few months.
DC Entertainment told Reuters the company was happy with the Wonder Woman campaign highlighting empowerment and gender equality for women.
"Wonder Woman stands for peace, justice and equality, and for 75 years she has been a motivating force for many and will continue to be long after the conclusion of her UN Honorary Ambassadorship," spokesperson Courtney Simmons said, adding that plans for a special edition Wonder Woman comic book based on the same subject will still be released in 2017.
Though not affiliated with the UN campaign, a Hollywood film based on the character and starring Israeli actress Gal Gadot is also scheduled for release in June.