Bright moon arising: Huge fireball recorded crossing night sky over Spain (VIDEOS)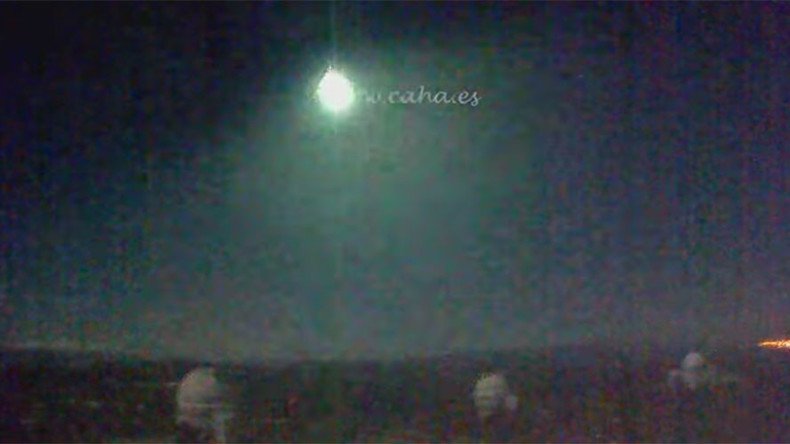 A huge fireball hurled across the night sky in Spain at an approximate speed of 72,000 kilometers per hour. It was visible in all parts of the country and is believed to be a piece of an asteroid.
The fireball was first spotted by Spanish scientists at 22:25 local time on Sunday as it passed over the southern regions of Andalucia, Granada and Jaen.
The object was described as a part of an asteroid to El Pais by Jose Maria Madiedo, an astrophysicist of the University of Huelva.
It was "considerable in size" so that "it could survive its passage through the Earth's atmosphere," Madiedo told Europa Press.
Professor Madiedo indicated that the object was detected by a network of high-sensitivity cameras of the University of Huelva, installed at 10 stations in Andalusia and Castilla.
The fireball was also spotted by astronomical stations in the regions of Toledo, Seville, Almeria, Sierra Nevada and Granada.
Witnesses claimed to have heard an explosion associated with the fireball, and to have felt a tremor similar to an earthquake. They've described it as being "brighter than the moon."
Eyewitness accounts and preliminary analysis of the phenomenon led scientists to believe that the "fireball" could have fallen to the ground in the form of a meteorite, Spanish media reported.
Another meteor-like object was caught on cameras last Tuesday, when a large fireball exploded over Siberia. One of the witnesses told RT that it "wasn't as light as day, but still quite bright."
It was seen for three or four seconds and around half a minute later there was a loud bang, triggering car alarms in many parts of the city, the witness said.
The apparent meteor burned up high in the atmosphere as little or no blast sound was heard on the ground by most eyewitnesses, the Emergencies Ministry announced.
You can share this story on social media: