Heart-stopping video shows fearless daredevils scale stadium roof without harness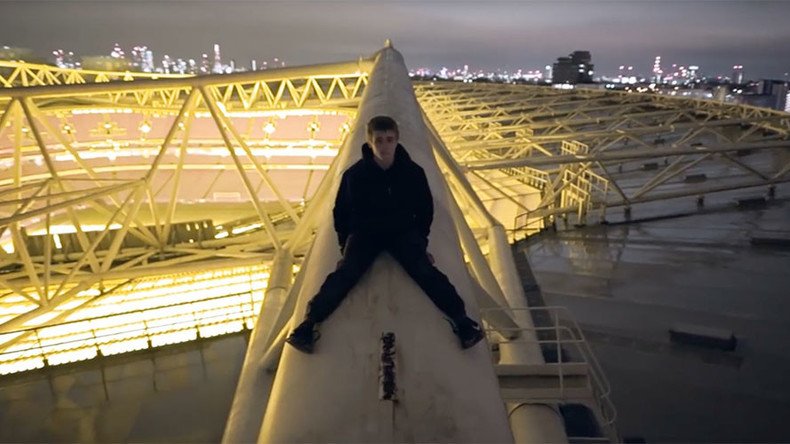 Stomach-churning footage of an urban explorer scaling the exterior of one of London's biggest soccer stadia at night without a safety harness has taken the internet by storm.
The YouTube video has garnered 241,000 views in just 48 hours since it was uploaded on December 10.
Daredevil climber DyingLlama and a friend climb to the roof of the 60,000-capacity Emirates Stadium, home to Arsenal FC, having initially negotiated a perimeter wall and entered a stairwell, according to the Daily Mirror.
From there the pair are able to access the seating area through an unlocked door and even take the time to meddle with the ground's iconic clock.
They then ascend to the summit of the stadium where a barefoot DylingLlama walks along a narrow metal beam hundreds of feet above the pitch. He later sits down with his legs dangling over the edge – nothing to prevent him from certain death should he fall over the edge.
As the dynamic duo are getting ready to make their exit, they become aware of a possible on-site security presence before managing to sneak out undetected.
Significantly, at the end of the video DyingLlama claims that, the day after the Emirates video was shot, he and six other friends gained unauthorized, after-hours access to London's Olympic Stadium, home to West Ham United.
Another urban explorer, Night Scape, had infiltrated West Ham's home ground back in September, prompting a major review of security at the stadium.
Last month two ticketless Manchester United fans sneaked into Old Trafford stadium and slept overnight in the toilets in a bid to see their heroes play the following day against Arsenal. Unfortunately for them, they were found by security the morning of the match and handed over to police.
You can share this story on social media: