'Racist' passport machine accuses Asian man of having eyes closed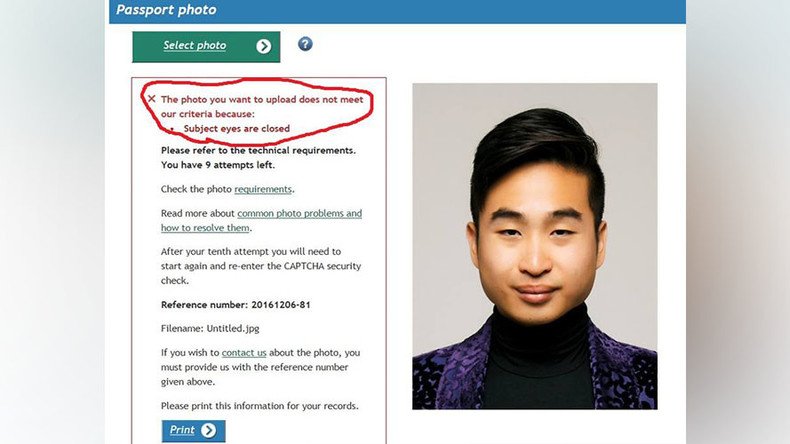 A New Zealand passport scanner made a 'racist' error when it rejected the photo of a man of Asian descent because it thought his eyes were closed.
Richard Lee had his passport renewal blocked when he submitted his photo to an online passport photo checker run by New Zealand's Internal Affairs.
The facial recognition software rejected his application because it thought his eyes were closed, when they were very much open.
"The photo you want to upload does not meet our criteria because [the] subject's eyes are closed," the message read.
Lee, an Aerospace Engineering and Business Management student, was renewing his passport so he could return to Australia after Christmas when he got the awkward message.
He contacted the Department of Internal Affairs to see why it had been rejected and was told, "uneven lighting on the face" was the reason.
"I tried different ones and no luck, so I rang the office they said it's to do with the shadow in my eyes and uneven lighting in the face," he told the Daily Mail. "So I got a few new ones taken at Australian Post and one of them went through, finally."
Luckily, Lee was good natured about the mishap. "It was a robot, no hard feelings. I got my passport renewed in the end," he said.
When he posted the message on Facebook, some people commented that the machine was racist.
"I posted it initially because I found it hilarious not necessarily racist," Lee said. "But it was really heart-warming to see so many of my friends in New Zealand and Australia jumping in and saying something, which is what makes us such great countries to call home."
Lee even posted an image of himself with a Snapchat filter that widens user's eyes, on Facebook, saying, "wish me luck."
"Up to 20 percent of photos submitted on line are rejected for a large variety of reasons," a New Zealand Department of Immigration spokesperson told Daily Mail Australia.
"We provide customers with helpful online resources to make it easier for them to take suitable passport photos and note that in this case a second photo was submitted on the same day and the individual was issued with a NZ passport."
You can share this story on social media: