Melee breaks out in Mosul as govt aid arrives (VIDEO)
Published time: 4 Dec, 2016 19:44
Edited time: 5 Dec, 2016 13:28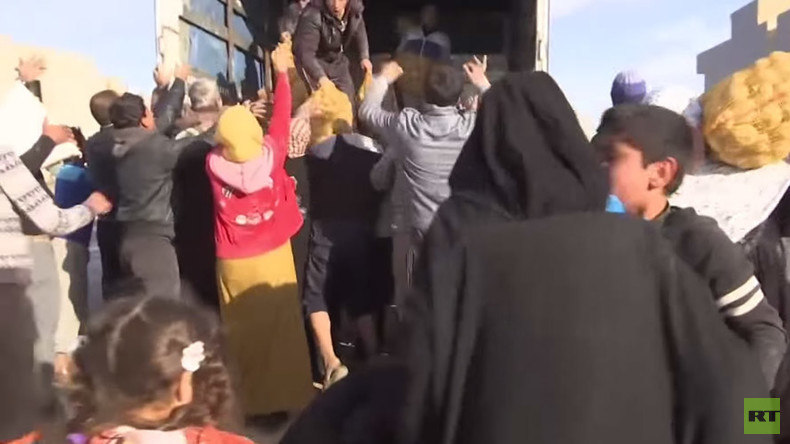 Chaotic scenes were captured in eastern Mosul as government aid arrived to the nearly besieged city at a time when food and water is running particularly low.
The Iraqi government sent truckloads of food, heating oil and drinking water to residents in areas retaken from ISIS on Sunday, but failed to send officials to oversee the delivery.
The result was scenes of pandemonium in Samah neighborhood as civilians overwhelmed the trucks and men, women and children scuffled over bags of flour, potatoes and boxes of fruit.
Security forces later intervened firing warning shots as they tried to clear the way for emergency services carrying casualties from car bombings inside the city.
Diaa Sallal, a senior Iraqi relief official, told The Associated Press that supplies were also being delivered to the towns of Bartella and Qayara, near Mosul, as well as two outlying Mosul neighborhoods. Few of the trucks reached those trapped near front line fighting, according to AP.
Another delivery in the Bakr neighborhood proved more organized as Iraqi special forces monitored the distribution and handed out boxes of supplies to those lined up on a street. However, the close vicinity of the area to the frontline meant only a small number of aid trucks could reach the neighborhood, AP reported.
An offensive led by the Iraqi army has been ongoing in Mosul for six weeks with the aim of pushing Islamic State (IS, ISIS/ISIL) militants out of the city's eastern districts.
READ MORE:Month of Mosul siege: No deadline for victory, civilians trapped between rock & hard place
Earlier this week, the UN warned that the city was running out of food and water supplies as the humanitarian crisis worsens.
Around 650,000 people were reported to be without access to their water supply after a pipeline was destroyed in fighting, according to Reuters.
READ MORE: Mosul civilians running low on water & food as ISIS stages public executions – UN