Bright idea: Gaza teen generates electricity from candles to overcome power cuts (VIDEO)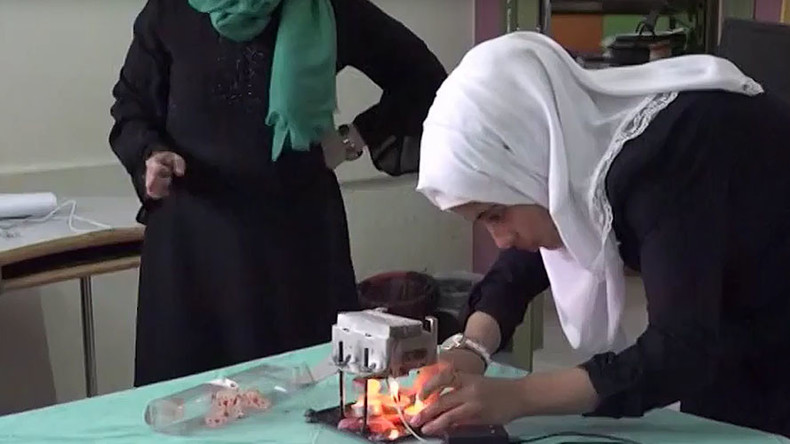 A teenage girl in Gaza has found a resourceful way of overcoming chronic power shortages, by constructing a device that can generate electricity from the heat of candles, New China TV reports.
Faced with regular blackouts, Shahd Abu Lebda, 16, told New China TV that she "depends on the principle that 'a person in need will find a way' – which pushed me towards inventing a device that generates electric charges for smart mobile phones from the energy of heat that comes from candles."
The teen started the project after attending a course on creative thinking,
Lebda's invention has received a mixed reaction from social media users.
"Energy needs energy, how many candles do I need for a fully charged battery?" Nasser Ramadan wrote on Facebook.
"But that will need lots of candles before you fully charge one battery of cellphone, hope she can create more alternatives rather than just candle...," Carolina D. Dela Paz noted.
"Makes sense: use 20 dollars' worth of candles for what would take 15 cents worth of electricity. You go girl maybe you can come up with another costly idea," Dewayne Smith wrote.
Gaza's power supply comes from three sources. Around 60 MW is generated by the self-governing Palestinian territory's only power plant, with 30MW imported from Egypt and 120MW supplied from Israel, according to the OCHA (Office for the Coordination of Humanitarian Affairs).
The Gaza Power Plant (GPP) shut down completely in April, after exhausting its fuel reserves due to a shortage of funds. That triggered electricity blackouts of 18-20 hours a day, the OCHA said.
Israel imposed a land, sea and air blockade on the Gaza Strip in 2007, following the takeover of the territory by Hamas.
According to the OCHA, "despite relaxation of some blockade-related restrictions in recent years, 1.8 million Palestinians in Gaza remain 'locked in', denied free access to the remainder of the territory and the outside world."